1 February 2007 Edition
Is Ronnie Flanagan fit for purpose?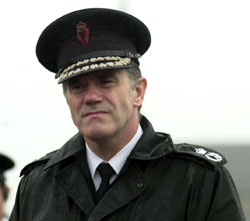 BY LAURA FRIEL
Serious questions about the conduct of Ronnie Flanagan, in his role as former RUC Chief Constable and head of Special Branch, continue to undermine his current position as head of Britain's Inspector of Constabulary.
Flanagan's lame denials of suspecting nothing and knowing less seemed incongruous as further evidence emerged to suggest the head of Britain's Inspectorate is far from fit for purpose. 
Revelations following the publication of Ombudsman Nuala O'Loan's investigation into Special Branch collusion in relation to the murder of Raymond McCord Jnr have placed the former RUC Chief at the centre of the current collusion controversy.
Pressure mounted on Flanagan to explain when he first was made aware of serious allegations about Mark Haddock and what action he took in response. According to Raymond McCord Snr Flanagan had been alerted to serious concerns concerning Mark Haddock as early as 1998 or 1999.
"There is no question that I raised Haddock at the meeting I held with Sir Ronnie, when I was accompanied by DUP politician Nigel Dodds. The meeting must have been in 1998 or 1999,"said Haddock.
"I then wrote in September 2000 to the Stevens team which was investigating collusion and detailed a number of allegations. They passed them onto Ronnie Flanagan and I was told an Assistant Chief Constable would be looking into them," said Haddock.
PSNI Chief Hugh Orde, who was part of the Stevens' inquiry at the time, has confirmed McCord's claim that Flanagan was alerted to serious concerns surrounding Mark Haddock in September 2000. McCord Snr has called on the PSNI to detail what was done at this point and explain why Haddock wasn't struck off as a Special Branch agent.
"How many more terrorist and criminal offences did he commit after 2000 while still being paid by Special Branch," said McCord Snr.
The O'Loan report linked Haddock to the murder of Tommy English in October 2000, a month after the Stevens team alerted the RUC about the McCord allegations.
But despite the warnings, according to Flanagan, "at no time did I have any knowledge or evidence of officers at any level behaving in the ways that have been described [by O'Loan],"said Flanagan.
MEMORY PROBLEMS
This is not the first time Flanagan has been forced to cite a lack of memory when faced with serious allegations about his conduct. Flanagan couldn't recall making a call to UN Special Rapporteur Param Cumaraswamy until he was confronted with an official log of the Geneva call.
During the telephone conversation, Flanagan attempted to coerce the UN investigator into removing detrimental comments the then Chief Constable and his Assistant Chief Constable and head of Special Branch, Raymond White had made during a meeting with Cumaraswamy.
Reminiscent of comments made by British Minister Douglas Hogg prior to the killing of human rights lawyer Pat Finucane, Flanagan and White told the UN official "some lawyers are working to the agenda of the paramilitaries".
When Cumaraswamy refused to omit this remark from the final draft of his report, Flanagan told the Special Rapporteur that if the comments attributed to him weren't removed then he could not guarantee the safety of those lawyers named in the report.
ROSEMARY NELSON
 "Rosemary Nelson was one of the lawyers to instigate the UN investigation and to whom Flanagan referred. On 15 March 1999 Rosemary Nelson was killed when a bomb was attached to her car," said Mark Thompson of Relatives for Justice.
"Rosemary had received threats directly from RUC officers and threats were made to Rosemary via her clients whilst in RUC custody. Collusion has been evidenced in her killing by Judge Cory and her killing is the subject of an on-going if limited inquiry," said Thompson.
Speaking after Rosemary Nelson's death, the UN Special Rapporteur made public his contact with the British government who he had urged to take steps to protect Rosemary.
Instead the British government, on the advice of the RUC, had denied the lawyer access to the Key Persons Protection Scheme while Flanagan, the then Chief constable refused to take any disciplinary action against the RUC officers involved in threatening her life.
Cumaraswamy said he had been saddened but not surprised by Rosemary Nelson's murder. "The question I ask is, why wasn't she given adequate protection?"
"These are just some of the questions that Ronnie Flanagan must account for in relation to one of the hundreds of cases in which lives were taken and concerning which families affected by collusion and shoot to kill seek truth, justice and accountability," said Mark Thompson.
Meanwhile the campaigning group Lawyers Alliance for Justice has called on the British Attorney General to appoint a special prosecutor to bring charges against all officers in the RUC involved in collusion.
"The time for Obfuscation has passed," said National Co-ordinator Edmund Lynch.
"Justice and the families of the victims, deserve nothing less than a transparent prosecution of those retired and serving members of the police service who organised, condoned or looked the other way while a campaign of mayhem was carried out in the name of the state," said Lynch.