1 February 2007 Edition
Was Torrens Knight another Mark Haddock?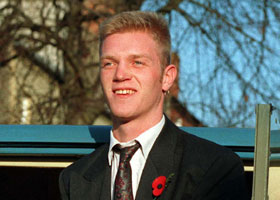 BY LAURA FRIEL
Relatives of those murdered by the sectarian serial killer Torrens Knight are to urge Ombudsman Nuala O'Loan to investigate their "long term and deep suspicions" that Knight was a Special Branch agent and that the murders in Greysteel, Castlerock, Kilrea and other places could have been avoided.
Sinn Féin's Billy Leonard said the relatives want to know if Torrens Knight was the Mark Haddock of the North Antrim, County Derry area.  Leonard has said that four families are prepared to go to the Ombudsman with their suspicions.
"These families want to know was there a similar situation in County Derry and North Antrim where Sinn Féin activists and other members of the public were murdered as a result of Special Branch collusion with this infamous gang," said Leonard.
The families want to know who paid money into a Coleraine bank for Torrens Knight. They have asked who arranged for loyalist weapons to be moved from Hunter's Mill Aghadowey after their location was pinpointed by anglers and reported to the local RUC.  And what was the role of an officer parked in a Kilrea street witnessing the loyalist murder of Danny Cassidy in 1992?
Relatives believe many outstanding issues suggest a "mirror image of the damning catalogue of collusion revealed by Nuala O'Loan" about Mark Haddock in the Mount Vernon area of North Belfast. It is widely known that Special Branch officers worked with Torrens Knight and two other senior loyalist hitmen.
"The families have suffered greatly because of the cover up and the wall of silence and deception and are determined to get to the bottom of this by going to the Ombudsman," said the Sinn Féin councillor.
Amongst those murders in which collusion is suspected are the killing of Sinn Féin councillors John Davey, shot dead in February 1989, and Bernard O'Hagan, shot dead in September 1991 and Sinn Féin candidate Malachy Carey in shot dead in December 1992.
Also Tom Donaghy, a Sinn Féin worker shot dead in August 1991, Sinn Féin election worker Danny Cassidy shot dead in April 1992 and IRA Volunteer Gerard Casey shot dead in April 1989.
Knight was one of a number of masked gunmen responsible for the Greysteel massacre. On Halloween night 1993 UDA killers walked into the Rising Sun Bar, a pub known as frequented by Catholics and shouted "trick or treat" before spraying the lounge with bullets. Nineteen people were wounded and eight died from their injuries.
Knight later admitted standing 'guard' at the door of the pub armed with a sawn-off shotgun during the attack and driving the getaway car away from the scene. Knight also admitted being part of a UDA gang that shot dead four Catholic workmen in Castlerock in March 1993.
Significantly, on the day of the Castlerock killings, two of three possible routes usually taken by the Catholic workmen travelling together in a van had been closed by the RUC. At Gortree Place gunmen emerged out of another van, killing one of the front passengers before spraying the rest of the vehicle with gunfire. 
Four workmen were killed and a fifth seriously wounded. One of those killed, James Kelly, was later claimed as an IRA Volunteer. Kelly had been the front passenger singled out for summary execution by the first gunman.
Despite the fact that the gun attack took place within view of a RUC barracks, the killers appeared unconcerned about surveillance or possible apprehension. After making an initial getaway, the gunmen returned to the scene, driving slowly past their victims before driving away. 
Torrens Knight was later jailed for the Greysteel and Castlerock murders but subsequently released under the terms of the Good Friday Agreement in July 2000. Knight who had been sentenced to life imprisonment for 12 UDA murders was subsequently paid £50,000 a year through a bogus Special Branch account on his release.
The payments came to light after bank staff noticed the notorious killer withdrawing two large amounts and checked his account. A bank official, imagining that Knight must be accruing a fortune through illegal means, informed the PSNI. The PSNI confirmed the payments were legal before transferring the account. 
In a joint statement relatives said they believed collusion in the Mount Vernon area "is just the tip of the iceberg". "Collusion was a reality over the decades and in all areas including County Derry and north Antrim where our relatives were slain by loyalists working hand in hand with Special Branch".
Johnny Donaghy, the brother of Tom Donaghy, said the families were considering making a fresh complaint to O'Loan's office in light of the collusion findings she published last week.
"We fought for a long time to get the facts about Special Branch collusion with loyalists such as Torrens Knight. We cannot let this situation go and we will approach the Ombudsman," said Donaghy.