30 November 2006 Edition
SF growing in Wexford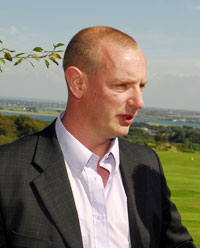 Despite the inclement weather a large number of people turned out for the launch of a new Sinn Féin Cumann in Camolin, County Wexford on Sunday 19 November. The launch was combined with a commemoration ceremony to honour Volunteer Dick Humes after whom the Cumann is named. Humes fought on the anti Treaty side during the civil war. Two of his nieces Rita Henshaw and Henrietta Prickat nee Hume, travelled over from Manchester for the event. His niece Eileen Conway nee Hume is a resident of Camolin.
The parade, led by a colour party and the Ed O' Brien Republican Flute band, made its way through Camolin and on to Ballyduff cemetery where proceedings were chaired by Sinn Féin Councillor Maurice Roche.
Wexford Sinn Féin General election candidate and New Ross Councillor John Dwyer and former Blanket man Matt Lundy addressed the commemoration.
Sinn Féin have set up four new cumainn, with three more to follow this side of Christmas, including one in the Courtown area.