30 November 2006 Edition
Letter to the Taoiseach By Barry McElduff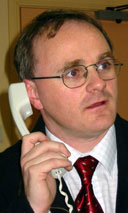 There has been a serious level of interest shown in the _2540 payment which is available to Irish people who reach the age of 100. Sorry to labour the point, but it is worth noting that people from all different kinds of backgrounds in the North are contacting me directly about this because they heard me promoting it on BBC Talkback.
I hope you don't mind if I keep referring them to you directly or to the President herself. Enough of that.
There is another certificate which I think you should promote more. I know a man from a rural part of Tyrone whose father fought against the Black and Tans. The unfortunate thing is that his IRA medal has been misplaced. Come to think about it, I know even more who fought against the modern day Black and Tans but I'll not dwell on this point for now. Maybe someday when we meet up in private, Taoiseach.
It has come to my attention that Willie O'Dea is in the business of issuing replacement certificates for the 'Tan War' medals which have been lost, stolen or destroyed. I hear, too, that there is a specific application form which needs to be completed and returned to The Pensions Administration Section, Department of Defence, Renmore, Galway for their consideration.
The name of the Veteran together with the title of the Unit in which he or she served has to be specified and I understand that an Irish version and an English version of each certificate is then sent to the family in question. I presume that you would not hold it against a family if they remained loyal to the cause of a thirty-two county Irish Republic. I would be interested in a breakdown of the number of replacement certificates, indeed actual 'Tan War Medals' which have been issued by your government. I understand that Willie O'Dea takes a personal interest in all of this.
Willie speaks with great authority about Óglaigh na hÉireann from time to time. But I often think that he is confused. A bit like the soldier I met in Aras An Úachtaráin in the early part of this year. I was there the same day as the British Prime Minister, Tony Blair.
Anyway, I spotted this uniformed officer with an Óglaigh na hÉireann badge on his lapel. So I asked him if he would ask Tony to give us back our Six Counties. My friend, from Roscommon, I believe, asked me if I wanted him to receive the P45. I assured him that this was not the intention at all but, rather, I must have been confused because where I come from Óglaigh na hÉireann had always shown concern for the Six Counties.
Back to basics, my primary reason for corresponding this week is to encourage you to promote the replacement certificate for 'Tan War' Medals which have been lost, stolen or destroyed.
I will be back in touch next week. In the meantime, sustain the flame.
Is mise le meas
Barry McElduff
NB - Bertie Ahern can be contacted on (00353) 1 6194020 or email [email protected] Address: Office of the Taoiseach, Government Buildings, Dublin 2