30 November 2006 Edition
Shell to Sea: RTÉ programme 'excluded vital information'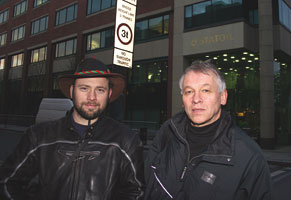 Corrib — 'government needs to wake up' says Norwegian union leader
BYELLA O'DWYER
The Shell to Sea campaign this week welcomed the support of Norwegian Trade Union SAFE while condemning RTE's biased coverage of the Corrib pipeline dispute.
Terje Nustad, leader of SAFE, the main confederation of oil and gas industry workers in Norway representing 7,000 industry personnel in Norway carried out a three-day fact finding visit to North Mayo and addressed Shell to Sea's national meeting on Saturday and a local community meeting on Sunday. He was accompanied by Helga Ryggvik, a leading Norwegian historian and expert on Statoil
Nustad pledged his union's support to the Shell to Sea campaign and committed the union to bringing information of Statoil's involvement in the Corrib gas project to political leaders and public opinion in Norway.
Speaking to An Phoblacht this week Terje Nustad of SAFE, said: "I met the Shell to Sea campaigners in Mayo and I was shocked by what I learned about events there. The way the community has been treated there is scandalous and should never have been allowed to happen. There are ethical questions for Shell to answer in terms of how an oil company should function and the Irish government should be stronger in its dealing with the company and they should take up the campaigners' proposal to establish a Commission of Enquiry. I will certainly be raising the issue politically when I return to Norway and I will lobby strongly on the matter. When it came to dealing with environmental and revenue issues the Norwegian government was far stronger. The Irish government really needs to wake up."
According to Shell to Sea spokesperson Mark Garavan, the campaign is currently focusing on mobilising its support in Mayo. Speaking to An Phoblacht he said that three new Shell to Sea groups are being established this week in Castlebar, Westport and Ballina.
"The campaign is intensifying in terms of our lobbying activities and we're putting the focus on Mayo in the short term to allow people there to express their support. We will be holding a protest on Saturday, 2 December at the Shell offices in Dublin to allow people there to express their support. The most important thing at the moment is the support we are receiving from a Norwegian trade union, SAFE.", said Garavan.
Primetime Programme
Mark Garavan believes there are matters of "impartiality and commitment to public service broadcasting" arising for RTÉ's Primetime programme of Thursday, 23 November when vital poll data was excluded from the programme. He is making a formal complaint to RTE to that effect.
"I wish to lodge a formal complaint with RTÉ regarding last Thursday's Primetime programme. A key poll finding was excluded by RTÉ. Though the question was poorly framed, the finding was nonetheless clear -- 44% of respondents supported an off-shore processing option, 29% supported the Bellanaboy option and 12% wanted the project abandoned. The viewing public had a right to be informed of this finding. Why was it excluded? If this critical question was to be excluded did this not undermine the validity and comprehensiveness of the other findings which purported to give a full account of Mayo opinion on the Corrib gas matter?", Garavan said.
Another point of contention is the programme's coverage of Garda handling of the protests in Mayo.
"In the broadcast programme, the Garda Superintendent in charge of operations at Bellanaboy was permitted to give his analysis of the situation. He raised a number of allegations including abuse, assault, intimidation and threatening phone calls. None of these matters have come before the courts, yet a clear link was established between all of these issues and the Shell to Sea campaign."
Garavan pointed out that the Garda Superintendent was not subject to questioning nor was he queried on Garda activity in policing the protests. It was not pointed out to viewers that over ten formal complaints have been made to the Garda Complaints Board regarding Garda actions. It was not pointed out that a number of senior political figures from a number of parties have publicly criticised the Gardaí for their handling of protesters. No local protesters were invited to give their accounts of Garda policing.
"This programme fell far short of the standards expected of RTE as a public service broadcaster. This is particularly disappointing as Primetime in particular has a good reputation and has previously addressed the Corrib gas conflict in a fair and reasonable manner. Local people and I participated in good faith in the programme and feel seriously let down by what was subsequently broadcast. It is essential that RTE correct the record as soon as possible and publish the full poll findings", Garavan said.