30 November 2006 Edition
Early Christmas panto at Stormont
BY JIM GIBNEY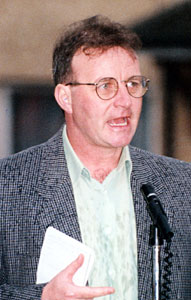 It was a tale of one chamber, two sittings, a gunman, a putative rebellion and a very confused political situation.
Last Friday all eyes were on the white haired octogenarian dressed in a dark pin striped suit most favoured by barristers performing in a court room.
The hunched figure of Ian Paisley held sway over the first sitting of the North's transitional Assembly. Head firmly down he read from his speech in a faltering, weak voice. All ears were cocked for the sound of the word 'nominate'.
He was a shadow of himself, not just in his heyday but of a few months ago when he stoutly told the Assembly speaker Eileen Bell that he rejected Gerry Adams' attempt to nominate him as First Minister.
It is not easy carrying the burden of having to say Yes to equality after a lifetime of saying No, even if you are accompanied on your journey with a Thesaurus.
Meanwhile a more deadly journey began a few miles away. Michael Stone with a bag full of bombs and knives set off to try for the second time to murder Gerry Adams and Martin Mc Guinness who sat nonplussed across the chamber from Paisley.
Before Paisley sat down, sectarian killer Stone had alighted from his transport and began his difficult climb with arthritic limbs up Stormont's numerous steep steps towards his unaware targets.
By this time the Assembly chamber had burst into life as verbal civil war broke out on the unionist benches with the UUP and the DUP accusing each other of selling out.
Bob Mc Cartney, who had left his barristers suit, at home competed with the UUP's normally composed Dermot Nesbitt for the title of jack-in-the-box as they jumped up and down seeking points of order. Peter Robinson, Ian's heir apparent, sat impassive and unemotional beside him.
Next to him and Peter's was the stone faced Nigel Dodds whose right leg twitched furiously as he listened to his leader's speech. This twitching outlet may well have prevented a verbal outburst which later that day he reflected in a statement of dissent signed by him and 12 other DUP 'rebels'.
Jeffrey Donaldson with all the zeal of the convert was the first line of defence for his newly found friends against the attacks of his erstwhile UUP colleagues. He picked them off one by one.
By the time an uncertain Mark Durkan, SDLP leader, got to his feet to speak the would be murderer was outside the window with a can of red spray paint daubing the building with 'Sinn Féin IRA mur..' Looking towards Jeffrey, Mark mouthed the words, 'Did he nominate?' three times, meaning Paisley. Jeffrey's head nodded one way then the other. He too seemed unsure.
Unsure too but for different reasons was the former rising star in the DUP Paul Berry. Cast out from the DUP for allegedly displaying human tendencies, 'which dare not speak their name' to them. He clung to a seat beside the chamber's exit like a man ready to run out at a second's notice. He looked in vain to his former colleagues for recognition as they passed him by. Politics can be a nasty business and there is none nastier than the DUP.
Was it a 'marriage or engagement' between the DUP and Sinn Féin, Sir Reg Empey, leader of the UUP wanted to know. 'Neither' bellowed an anonymous unionist, 'It was a divorce'.
Watched on from the chamber's gallery by a group of teenage children from Mean Scoil Feirste it must have seemed to them that their muinteoir had mistakenly taken them to an early Christmas panto instead of the seat of government in the North. Their guffaws of laughter were suddenly interrupted by a fog horn alarm -- the assassin had arrived. The chamber cleared, the killer overcome, business was suspended for the weekend.
On resumption on Monday it was a calmer congregation from which an indicative First Minister and a definite Deputy First Minster emerged.
• Ian Paisley waves to media as he arrives at Stormont