30 November 2006 Edition
IRIS the republican magazine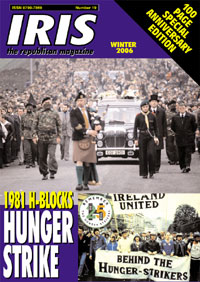 This week sees the return, of the popular republican magazine Iris. Relaunched by Republican Publications, the first new edition is a 100-page special on the 1981 Hunger Strike featuring rare photographs and interviews with participants.
There is a limited print run (only 1,500), so Sinn Féin cumainn and individuals should place orders now!
Order from:
Sinn Féin Bookshop
58 Parnell Square, Dublin 1, Ireland.
Telephone: (353 1) 814 8542
Website: www.sinnfeinbookshop.com
or e-mail: [email protected]
An Phoblacht Magazine
AN PHOBLACHT MAGAZINE:
Don't miss your chance to get the second edition of the 2019 magazine, published to coincide with Easter Week
This special edition which focuses on Irish Unity, features articles by Pearse Doherty, Dr Thomas Paul and Martina Anderson.
Pearse sets out the argument for an United Ireland Economy whilst Pat Sheehan makes the case for a universally free all-island health service.
Other articles include, 'Ceist teanga in Éirinn Aontaithe', 'Getting to a new Ireland' and 'Ireland 1918-22: The people's revolution'.