30 November 2006 Edition
IRIS the republican magazine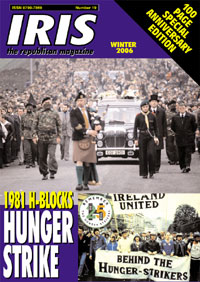 This week sees the return, of the popular republican magazine Iris. Relaunched by Republican Publications, the first new edition is a 100-page special on the 1981 Hunger Strike featuring rare photographs and interviews with participants.
There is a limited print run (only 1,500), so Sinn Féin cumainn and individuals should place orders now!
Order from:
Sinn Féin Bookshop
58 Parnell Square, Dublin 1, Ireland.
Telephone: (353 1) 814 8542
Website: www.sinnfeinbookshop.com
or e-mail: [email protected]