26 October 2006 Edition
The Matt Treacy Column
Dinner in South Armagh?
It always provides a chap with food for thought when one hears that one is a topic of conversation in South Armagh. Many's the invitation to dinner in Camlough - strictly black tie - that has been fingered tentatively as the invitee pondered on whether his friendship with an avuncular fellow from Lisburn had raised suspicions, or did they just like the cut of his jib.
Thus it came as no little surprise, and discomfort, to my good self that someone had arrived at a meeting in those parts recently, brandishing a file about me. Usually files about me are mental ones reminding the person that I owe them money or had told them to back some donkey in the Gold Cup, or that they had spotted me in their garden in the early hours of the morning the worse for drink and were meaning to ask me what my game was.
In this case, the file consisted of an envelope of cuttings of this column. Apparently this was flourished in the direction of a certain Member of Parliament, not unknown around Camlough, and complaints were made regarding the alleged bias of the 'Matt Treacy Column'. Allegedly I have been writing about certain matches and ignoring certain other matches. Specifically, I did not write about Crossmaglen winning their eleventh county title in a row, while I did write about the Dublin hurling final.
In my defence, I did refer to the Cross match and had been intending to go to it until something intervened. Rest assured, however, that I hope to catch up with them again during their Ulster campaign should they manage to overcome Gaoth Dobhair at the weekend. That, let me hastily add, being no indication of bias in either direction.
This weekend brings the start of the Compromise Rules series between Ireland and Australia. God help us. I actually share Mickey Harte's view of it - that it is of little value - but I will be watching and, let's be honest, most of us will be indulging in a bit of atavistic baying for revenge for the humiliation of last autumn down under.
According to Michael Voss of the Brisbane Lions, while Australia intend to play by the rules they also intend to play "hard". The quietly-spoken Sean Boylan is not known for sending out teams that live by Matthew 5:39. So. Game on! And fetch me my nacho hat.
And now it is competition time. Below are the lists of nominations for this year's All Stars in football and hurling and the winner will be the person who picks the most Dublin players. Or failing that, whose selection is closest to that picked by the panel of experts.
To enter, select your choices from 1-15 for both hurling and football and send them to [email protected] anphoblacht.com or c/o 58 Parnell Square, Dublin 1 before November 22nd. Cash gifts and marriage offers from sturdy women with land will not be spurned out of hand.
First prize will be a one-week holiday in South Armagh. Second prize will be a month's holiday in South Armagh. Don't mind me, I'm only breaking your chops.
Actually the prize(s) will consist of books. About the Dubs. Well, they can be about the Dubs if you wish, or anything else that is contained in the Sinn Féin emporium of books, an institution that rivals the lost Library at Alexandria as one of the Wonders of the World.
The nominations are:
Hurling:
Goalkeepers:
Donal Óg Cusack (Cork), Davy FitzGerald (Clare), James McGarry (Kilkenny)
Full Backs:
Brian Murphy (Cork), Diarmuid O'Sullivan (Cork), JJ Delaney (Kilkenny), Noel Hickey (Kilkenny), Eoin Murphy (Waterford), Tom Feeney (Waterford), Paul Curran (Tipperary), Frank Lohan (Clare), Damien Reale (Limerick)
Half Backs:
Tommy Walsh (Kilkenny), James Ryall (Kilkenny), John Tennyson (Kilkenny), Ken McGrath (Waterford), Tony Browne (Waterford), Ronan Curran (Cork), John Gardiner (Cork), Eamon Corcoran (Tipperary), Sean McMahon (Clare)
Midfield:
Jerry O'Connor (Cork), Tom Kenny (Cork), Derek Lyng (Kilkenny), James Fitzpatrick (Kilkenny), Shane McGrath (Tipperary), Dave Bennett (Waterford)
Half Forwards:
Eddie Brennan (Kilkenny), Henry Shefflin (Kilkenny), Eoin Larkin (Kilkenny), Dan Shanahan (Waterford), Michael Walsh (Waterford), Niall McCarthy (Cork), Ben O'Connor (Cork), Tony Carmody (Clare), James Young (Laois)
Full Forwards:
Joe Deane (Cork), Brian Corcoran (Cork), Martin Comerford (Kilkenny), Aidan Fogarty (Kilkenny), Tony Griffin (Clare), Eoin Kelly (Tipperary) Damien Hayes (Galway), John Mullane (Waterford), Joe Bergin (Offaly).
Football:
Goalkeepers:
Stephen Cluxton (Dublin), Gary Connaughton (Westmeath), Alan Quirke (Cork)
Full Backs:
Marc O'Se (Kerry), Tom O'Sullivan (Kerry), Paul Griffin (Dublin), Karl Lacey (Donegal), Barry Owens (Fermanagh), Francie Bellew (Armagh), Joe Higgins (Laois), Graham Canty (Cork), Keith Higgins (Mayo)
Half Backs:
Seamus Moynihan (Kerry), Aidan O'Mahony (Kerry), Bryan Cullen (Dublin), Ger Spillane (Cork), Peadar Gardiner (Mayo), Aaron Kernan (Armagh), Karol Slattery (Offaly), Barry Dunnion (Donegal), Diarmuid Blake (Galway)
Midfield:
Nicholas Murphy (Cork), Darragh O'Se (Kerry), Ronan McGarrity (Mayo), Ciaran Whelan (Dublin), Shane Ryan (Dublin), Paul McGrane (Armagh)
Half Forwards:
Alan Dillon (Mayo), Ciaran McDonald (Mayo), Paul Galvin (Kerry), Sean O'Sullivan (Kerry), Alan Brogan (Dublin), Jason Sherlock (Dublin), Conal Keaney (Dublin), Paul Barden (Longford), Ross Munnelly (Laois)
Full Forwards:
Kieran Donaghy (Kerry), Colm Cooper (Kerry), Ronan Clarke (Armagh), Steven McDonnell (Armagh), Conor Mortimer (Mayo), James Masters (Cork), Niall McNamee (Offaly), Paddy Bradley (Derry), Brian Kavanagh (Longford).
An Phoblacht Magazine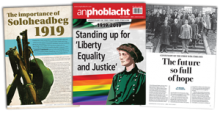 AN PHOBLACHT MAGAZINE:
Don't miss your chance to get the first edition of 2019 published to coincide with the 100th anniversary of An Chéad Dáil and Soloheadbeg.
In this edition Gerry Adams sets out the case for active abstentionism, Mícheál Mac Donncha takes us back to January 21st 1919, that fateful day after which here was no going back and Aengus Ó Snodaigh gives an account of the IRA attack carried out on the same day of the First Dáil, something that was to have a profound effect on the course of Irish history.
There are also articles about the aftermath of the 8th amendment campaign, the Rise of the Right and the civil rights movement.