26 October 2006 Edition
Housing scam - Meath County Council to repay families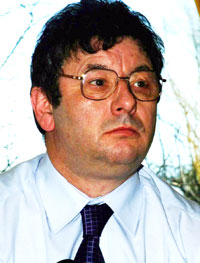 Reilly exposes housing scheme rip-off
A long-running campaign by Sinn Féin councillor Joe Reilly to force Meath County Council pay in excess of €680,000 to 21 families has recently met with success. After investigating the Rural Cottage Tenant Purchase Scheme in County Meath, Reilly uncovered a system whereby the Council was charging participants for land that they already owned.
The scheme was designed to allow the local authorities build rural cottages on an applicant's land. The applicant would supply the land or site and the council would then rent the cottage to the applicant. Over the years, many tenants applied to purchase the cottages from the council. Meath County Council, however, charged each of the tenants the market value for the site on which the house was built - despite the fact that each site originally belonged to the tenant.
Joe Reilly says that this was a clear case of Meath County Council selling people their own land back at market prices.
"Over a year ago, two tenants drew my attention to the anomalies in the scheme. I brought this to the attention of Meath County Council and challenged them to seek legal advice on the issue. Finally, that legal advice has now been confirmed and backed my view that tenants are being incorrectly charged to the amount of €698,000 plus interest."
According to Councillor Reilly, Meath County Council is not alone in its dubious housing scheme practices, and his campaign has implications for councils throughout the 26 Counties. The figure owed to participants of similar schemes throughout the state could run into millions.
"I asked my party colleague Arthur Morgan TD to raise this in the Dáil in questions to Minister Dick Roche. The Department claimed not to have the relevant information. Now that Meath County Council has confirmed they incorrectly interpreted the scheme, I call on Minister Roche to contact each of the local authorities and ensure that everyone who may be entitled to a refund due to overcharging is contacted and their cases dealt with.
"Finally, I am glad to be able to report that, due to our campaign reaching a successful end, 21 families throughout County Meath will be receiving correspondence from the County Council in the coming weeks. If there is any misunderstanding among participants as to their rights, I would encourage them to contact their legal advisors or Sinn Féin. I would also call on Sinn Féin councillors throughout the country to enquire into the procedures in operation in their own areas."