26 October 2006 Edition
Letter to the Taoiseach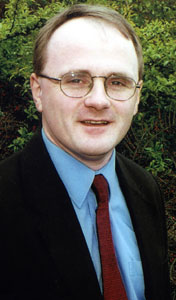 I have always been a great believer in writing to the Taoiseach. Who else are you supposed to tell if the PSNI is using CS gas against Catholics in Strabane or Lurgan?
You can call me naïve if you want, but I would like to believe Dublin's most famous Gaelic football supporter, who wants to facilitate northerners in playing 'a fuller part in the political life of the nation.'
Anyway, I always contact the Taoiseach if anything goes wrong in the Six Counties. I do this because Bertie is really a sound man. How do I know this? Because he told me so himself one day in Glasnevin Cemetery, after we reinterred Kevin Barry and the other Volunteers. I wondered why he had made a distinction between Kevin Barry and Bobby Sands in the course of his graveside oration and I also wondered why he was presenting Ireland as 26 counties and not 32.
Bertie's answer was to assure me that I was a sound man myself and that we were both trying to achieve the same thing. Now you might understand why the man from Drumcondra comes to mind for me if we need a friend in high places. My advice is to ring the Taoiseach if you are looking for a hand to free the country.
Bertie always tells you that he is working on that project but it will take another while. At least his heart is in the right place.
Still, you might think that in the short term he could help deliver an Irish Passport Office somewhere in the North. Some argue for Derry because it would be very accessible for the Donegal people. Kathy Stanton would probably select Belfast's Antrim Road, while I myself would be inclined towards Lower Main Street, Carrickmore. Maybe we could split the difference and opt for Gulladuff. One way or another, as Martin McGuinness might say, the problems of location are not insurmountable.
Bertie sometimes speaks the obvious when you press him on the question of elected representatives being welcome to speak in the Dáil. As far as I know, he is yet to extend the physical capacity of 'The House' to legislate for the imminent arrival of a busload from the North. It's worth a try - but do not be too disappointed if the Taoiseach asserts in reply that "this matter has been the subject of public debate for some time." That is the answer that I got.
Changing the subject for a minute, I was in Brussels last week for a major conference, headed up by Bairbre and Mary Lou, on the subject of European Union support for Irish reunification. There were German MEPs present, and a few from Cyprus as well, as we shared our experiences of partition and processes of reunification. I wonder if any of the Fianna Fáil MEPs have ever raised the issue of Irish unity on the European stage. I'm sure they have.
On a final but related note, I hear that Ireland are preparing well for the International Rules Series against Australia. Any chance of allowing our national captain the right to vote in the next presidential election? You might appear yourself, Bertie, in Croke Park on 5 November. Keep 'er lit!
BY 
BARRY McELDUFF
NB - Bertie can be contacted on (00353) 1 6194020 or email [email protected] Address: Office of the Taoiseach, Government Buildings, Dublin 2
An Phoblacht Magazine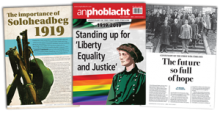 AN PHOBLACHT MAGAZINE:
Don't miss your chance to get the first edition of 2019 published to coincide with the 100th anniversary of An Chéad Dáil and Soloheadbeg.
In this edition Gerry Adams sets out the case for active abstentionism, Mícheál Mac Donncha takes us back to January 21st 1919, that fateful day after which here was no going back and Aengus Ó Snodaigh gives an account of the IRA attack carried out on the same day of the First Dáil, something that was to have a profound effect on the course of Irish history.
There are also articles about the aftermath of the 8th amendment campaign, the Rise of the Right and the civil rights movement.