19 October 2006 Edition
Belfast Volunteers remembered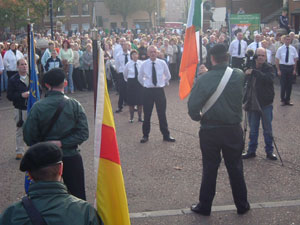 Against a backdrop of glorious Autumn sunshine over 600 republicans marched from the Short Strand in East Belfast to the Markets in South Belfast on Sunday, 15 October to remember IRA Volunteers Joey Surgenor, Paul Marlowe and Francie Fitzsimmons who died on active service on 16 October 1976.
In an historical move the huge crowd was lead out of the Short Strand and across the Albert Bridge by a colour party of young republicans from the area. This was the first time a republican colour party marched this route in East Belfast.
Among the crowd were many long time republicans from across the city of Belfast. The parade was a demonstration of the strength of republicanism in an area that has seen so much hardship over the years.
At the Markets Memorial Garden Sinn Féin President Gerry Adams delivered the main oration.
Introduced by Niall Ó Donghaile, Sinn Féin's representative in the Short Strand, Adams paid tribute to the three Volunteers who were being remembered.
He told the crowd, which included members of the three mens' families, that, "Joey, Paul and Francie stood up to injustice, to demand the rights of the Irish people".
"Like thousands of others Joey, Francie and Paul took up arms to defend their community and to resist British oppression and injustice.
"We are very proud of our patriot dead and commemorations like this allow us to honour their memory, reflect on their lives and courage in struggle and remember that each was a son, a husband and a brother. We owe to you, the families, a huge debt of gratitude. We are proud of you as we are proud of your loved ones".
Adams also reflected on the political events of last week at St Andrews in Scotland.
He said that the proposals tabled by the British and Dublin governments would be, "examined closely".
"I want to ask everyone here, and republicans the length and breadth of the country, to be part of our efforts to plot a way forward. Negotiations have been an integral part of our struggle, of your struggle, for some time. What we achieve, we achieve together, as we move forward in a united, cohesive way".