19 October 2006 Edition
Building for a major rally on healthcare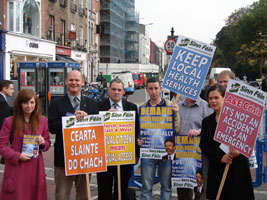 Preparations are continuing as Sinn Féin builds for a major health rally this Saturday in Dublin. Leaflets have been distributed and posters erected all over the 26 Counties and there have been a number of local meetings and launches of Sinn Féin healthcare policy as activists mobilise to bring supporters and campaigners to Dublin to partake in the rally entitled Health for All.
Sinn Féin National Chairperson Mary Lou McDonald MEP, along with Dublin TDs Seán Crowe and Aengus Ó Snodaigh, joined party activists on a canvass of Grafton Street in Dublin City Centre last Wednesday to encourage Dubliners to take part.
"Every day brings a new example of the shambles this government has let our health service deteriorate into," said McDonald. "Today it was a report highlighting the inadequacies of the maternity services, tomorrow who knows what it could be? All over Dublin we will be working hard for the next couple of days to get as many people onto the streets as possible this Saturday to challenge a Government that provides its citizens with a second class health system."