19 October 2006 Edition
Former Hunger Strikers guests of Cuban government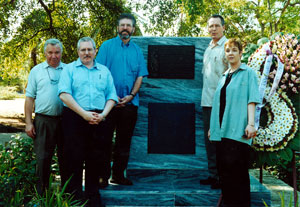 Former republican Hunger Strikers Raymond McCartney, MLA and Mary Doyle will visit Cuba this weekend at the invitation of the Cuban government. They will be accompanied by Sinn Féin press officer Dominic Doherty.
The trip lasting six days is primarily designed to mark the 25th anniversary of the 1981 Hunger Strike.
A number of years ago a monument to the Hunger Strikers was unveiled in the country's capital, Havana.
Gerry Adams visited the memorial when he was in Cuba meeting Fidel Castro.
While in Cuba, McCartney and Doyle will lay a wreath in memory of the ten men who died during the 1981 Hunger Strike at the Cuban government organised tribute.
They will also meet with the Foreign Minister, and visit a number of community and educational projects.