19 October 2006 Edition
Gallagher calls for Dublin West support for health rally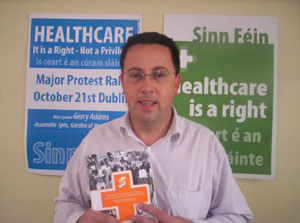 Dublin West Sinn Féin candidate, Councillor Felix Gallagher has called for Dubliners to come out in strength for the forthcoming Sinn Féin rally in Dublin demanding healthcare rights.
Gallagher was speaking at a local launch of the party's healthcare policy document - Healthcare in an Ireland of Equals in Corduff on Thursday, 12 October.
Gallagher paid tribute to the people of Monaghan for coming out in force to demand a right to healthcare and encouraged Dubliners to do the same at a rally organised by the party that is scheduled to take place this coming Saturday, 21 October at 1pm. The rally will assemble at Parnell Square.
Gallagher said "This policy seeks fundamental reform which would have a massive impact on the people of Dublin 15. Our emphasis is on a rights-based health service, based on need not ability to pay. It opposes State funding of a two-tier system and the give away of public land for speculators and private hospitals. Sinn Féin has been at the forefront of opposing this give away with a number of protests outside Connolly Hospital. The policy also details our support from Primary Healthcare provision. Primary care provides for approximately 90% of patients needs. In recent months we have had announcements of primary care centres for Corduff and Mulhuddart. While this is welcome it does not provide for the massive new communities in Littlepace, Ongar and Carpenterstown.
"The policy also seeks for the provision of the required 3000 additional hospital beds. Only this week the Irish Nurses Organisation has confirmed that the number of people on trolleys in Dublin has reduced by 40%, but this has not been replicated nationally. The difference is that some additional beds have been provided in Dublin.
"The people of Monaghan have come out in force, with an estimated 10,000 taking to the streets a fortnight and sending a shiver down the Government's spine.
"The people of Dublin West have the opportunity to replicate this and demand services for the fastest growing area in the country. Sinn Féin is holding a public rally - 'Demand Your Right To Healthcare' on Saturday 21 October at Parnell Square. This rally is open to all and I would encourage people of all political persuasion and none to come along and show their opposition to empty beds, empty wards and empty promises."