12 October 2006 Edition
Bellaghy vigil marks end of hunger strike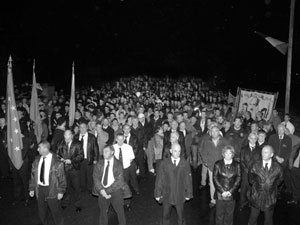 A candlelight procession, marking the end of the 1981 hunger strike, was held in the County Derry village of Bellaghy on Sunday 8 October.
The procession followed the route from Scribe Road through Bellaghy to St Mary's cemetery, where local hunger strikers Francis Hughes and Tom McElwee are buried.
After the deaths of both men in 1981, the RUC refused to allow their families to take the funeral corteges from their homes on Scribe Road through Bellaghy to the local cemetery.
Speaking to An Phoblacht, Sinn Féin's Ian Milne recalled the RUC bigotry displayed to the families of the hunger strikers in 1981.
"Francis and Tom were cousins who lived close to each other on Scribe Road and when their funerals were banned from going through the town by the RUC, local people were incensed. In making that journey today, 25 years after the hunger strike, we are showing our support for the Hughes and McElwee families and the families of their eight comrades."
The main speaker at the cemetery was the Mid-Ulster MP Martin McGuinness. He told the hundreds of people who attended the candlelit procession that "the hunger strikers inspired new generations of republicans and that their courage would inspire us to continue the struggle for the freedom of Ireland for which they died".