12 October 2006 Edition
The Matt Treacy Column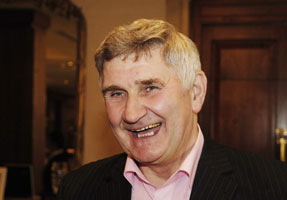 Micko's biggest challenge yet
There is a 1932 film about a boxer called Jimmy Nolan starring, if that is not putting it too strongly, Regis Toomey. Regis who? Indeed, you may well ask. Perhaps if I tell you that he also starred as Detective Smiley North in the 1934 classic Murder on the Blackboard and as Ted Hall in the 1939 film Smashing the Spy Ring you will know who I am referring to.
Anyway the point of mentioning old Regis is that the title of the 1932 boxing film was They Never Come Back. The moral of the story being that boxers never do well when they come out of retirement. Unlike, it would seem, Mick O'Dwyer.
Micko took over Kildare after spending several years pining like Cinncinatus in Waterville waiting perhaps to be recalled to the service of the Rome of the south west. That call never came and many thought he was mad when he agreed to manage the Lilywhites. That conviction deepened as the early 1990s brought several humiliations at the hands of the Dubs but he persisted and succeeded in taking the flour bags to their first Leinster title in 42 years and their first All Ireland final since 1935. Unfortunately they failed to win. Micko moved on and Kildare have reverted to type.
He worked a similar oracle with Laois, bridging a 57-year gap between winning Leinster but failing to take them beyond that to challenge for national glory. Still, he made a difference and there is no doubt but that neither county would have achieved what they did had it not been for him. That is less a reflection on the players he managed than a tribute to the way of doing things that he introduced.
There had been rumours that he was prepared to leave Laois two years ago for Dublin and I have it on good authority that there was substance to it. Despite his statement the other day that he has only ever, since leaving Kerry, been interested in managing what are perceived as 'weak' counties he has let it be known privately that he would love to have managed the Dubs. Actually now that I look at the reference to weak counties. Moving swiftly along.
Now it appears that Micko has taken on the biggest challenge of all. Certainly when it comes to weak counties, Wicklow are right up there. Arguably along with Kilkenny, who don't even bother competing at senior national level anymore, and Waterford, the weakest of them all. And yet there would be a notion that Wicklow are far more of a football county than either and at times in the past they have flattered to deceive.
Certainly at club level Wicklow have been competitive. Baltinglass won Leinster and the All Ireland in 1990 and Rathnew won Leinster in 2002. Some of both club's success was channelled into the county but narrow defeats such as that against Meath in 1991 and good performances against the likes of Kildare and Offaly in recent years have been followed by despair.
This year's league campaign was not a complete disaster despite Wicklow finishing bottom of Division 2B with only one win. That one victory came at home against Waterford but they had narrow defeats against Antrim, Cavan, Westmeath and Louth and their worst defeat was a six points defeat at home by Tipperary. They don't get beaten by much but they do get beaten often. All the more dispiriting.
The championship was a disaster. Wicklow were beaten by nine points by Carlow in a strange Leinster first round match and then by ten points at the hands of Monaghan in the qualifiers. Nor is there any comfort in the past. Wicklow have never won a Leinster senior title and have just one minor, in 1974. Their sole national senior success came in 1992 when they won the All Ireland 'B' championship but no-one paid that much never mind. Their only All Star was the great Kevin O'Brien of Baltinglass who was selected at full forward in 1990. More for his part in Baltinglass' club success than for the county. Significantly, O'Brien has agreed to be one of O'Dwyer's selectors.
Wicklow is more famous for camogie matches that end up in punch ups and referees that are bundled into the boots of cars while large mountainy chaps debate which scene from Deliverance to re-enact. Some of this is unfair and for a time things that would have attracted little attention in other counties, things like well, bating the bejaysus out of refs, were sure to attract national prominence if they took place in Wicklow. Give a dog a bad name as they say.
On the other hand, Wicklow would be renowned for long standing and bitter rivalries between certain clubs that remained so intense that any expectation that the same lads would amicably tog out together for the county was akin to promoting unity between divergent strands of the Trotskyist Fourth International.
Indeed I once met a chap who had travelled from a certain part of Wicklow to see Rathnew play Dublin champions Na Fianna in a Leinster final solely for the purposes of seeing "those horrid bastards" getting beaten. And those bastards were not Na Fianna. While such intensity must be admired in a strange sort of way, it is surely not beneficial to the project of promoting Wicklow football.
So what in the name of Eoin Liston has possessed Micko. Is this the first sign that the man has entered his dotage? Is it a sinister last attempt to beat the Dubs? Does he know something that the rest of us do not?
Whatever the case one thing is for certain. Aughrim will be full come February and Wicklow will be the focus of attention not seen since the captain of the Glenealy under 12 camogie team challenged Mike Tyson to a straightener
Oh, and Larry O'Toole is looking for tickets for the All Ireland final.
An Phoblacht Magazine
AN PHOBLACHT MAGAZINE:
Don't miss your chance to get the second edition of the 2019 magazine, published to coincide with Easter Week
This special edition which focuses on Irish Unity, features articles by Pearse Doherty, Dr Thomas Paul and Martina Anderson.
Pearse sets out the argument for an United Ireland Economy whilst Pat Sheehan makes the case for a universally free all-island health service.
Other articles include, 'Ceist teanga in Éirinn Aontaithe', 'Getting to a new Ireland' and 'Ireland 1918-22: The people's revolution'.