12 October 2006 Edition
The Health Crisis - Inequality of system causing real hardship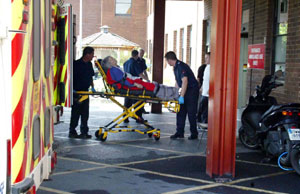 Primary care and the A&E crisis
As momentum builds towards a major rally in Dublin on 21 October, around the continuing crisis in the health service, ELLA O'DWYER talks to Dublin City Councillor and Sinn Féin general election candidate Larry O'Toole about how the problem is affecting his constituents in Dublin North East.
A key issue for Larry O' Toole is the Accident and Emergency services at Beaumont Hospital. "Anytime you go up there, day or night, there's people on trolleys in the A&E. The numbers could range from ten to 20 people and then you have the 'walking wounded', people who having waited for hours, give up and go home without getting treatment of any kind."
As to how many hours people are left waiting O'Toole says: "I'm going on what people tell me and I've heard that people can be left waiting on chairs or trolleys for up to two days or even over.
"What happens sometimes is that the individual gets near to being looked after and then a more urgent emergency patient arrives in and has to be seen directly, setting the waiting list back further. Some people go and come back the next day and the more resilient ones would sit there into the next day hoping to be treated. One of the keys to resolving that kind of situation is to get more staff and more beds of course, but there's also the need for adequate primary care. Not everyone needs to be hospitalise - for instance, in the case of relatively minor injuries or ailments - these could be dealt with at the Health Centres. Sinn Féin is proposing to ease the crisis in A&E by providing more out-of-hours primary care services, more step-down facilities, increase staff numbers and ensure that some chronic illnesses are managed in the community through planned programmes."
O'Toole believes that along with the need for adequate primary care, there's also an important need to project probable needs down along the line and plan for such. "There are 14,000 new homes being built in my constituency. This will mean an increase in population of around 40,00 people. There will be a major need for extra hospital facilities.
The Health Board have given us a commitment that they're going to put state-of-the-art primary health care into that development." Asked if he was confident that this facility would materialise he said "Oh yes, I'm very confident of that. We in the North Fringe Forum meet them every couple of months and we're assured that these facilities are set to get in motion. The North Fringe Forum is not a statutory body in that we can't make decisions. What we are is a group of political representatives from across the political board who come together on issues like health and then we form a kind of lobbying group. Being councillors we're on the ground and see what's really going on and what the needs are. We all work together on these kinds of issues.
"The Forum has been pushing for services between health, transport, education and policing. The health care provisions should be in place in a year or two. That scenario is a good example of what can be done across the board." Asked then about the value of the North Fringe Forum as a model for other regions he said; "I have to put a kind of a health warning with it, if you pardon the pun, in that it doesn't have the teeth of a statutory body. Its power is limited but it does facilitate dialogue and contact between various groups. We come together with all the different agencies- health, police, education, Bus Atha Cliath, Iaranrod Eireann, Dublin City Council, the developers and the like. The Forum is useful in pushing for things like the promised primary care facility I spoke of earlier and these facilities will serve the community very well. But then again the community is going to be much expanded in population and that's going to put extra pressure on Beaumont Hospital because not everyone can be treated at primary care level. The Accident and Emergency service will need to be expanded and enhanced - more staff, more beds, and more space.
If you go into A&E, the very least you should be able to expect is to get into a bed within a couple of hours having had preliminary attention. There's a constant pressure on patients and families but the staff are living with that pressure 24/7 and that's something people often forget. Staff are under pressure like that from when they step onto the ward until they leave. There's a very fraught situation. You have maybe a couple of dozen people needing treatment and some in very serious need of treatment and a staff who, though they're marvellous, can't be expected to cope.
"Between the patients, relatives and staff there's a lot of frustration. But the staff are at the coalface. Imagine facing into work with that kind of pressure facing you daily. It's not all about throwing money at the services but there is a need all the same for additional funding."
On Health Minister Mary Harney's privatisation agenda O'Toole says: "It's the Progressive Democrat agenda to privatise everything from Aer Lingus, which is a done deal, to other services including health. The situation as it stands is that if you have the money you'll get quicker and better service. That's wrong. That's total inequality. Ordinary people are left to services that are basically inadequate. Mary Harney wants to sell off hospital, public land to private companies to build private hospitals on and there we are with hospitals that are inadequate for want of space, infrastructure and staff and the minister wants to sell off land that belongs to the people to private companies for more private care."
On medical cards O'Toole believes the system is a bit of a gimmick. "Harney introduced a system whereby the medical card can cover Doctor treatment only, excluding the cost of prescriptions nevermind dental or optical treatment. It only covers the Doctor's fee. The main expense for people attending a doctor is the prescription cost. Provision should be made for a far more liberal medical card service."
While identifying vast developments made in the field of medicine, O' Toole felt that advancements in the services area were lagging far behind. He recalled his experience of hospitalisation when, as a 14-year old he was treated for a broken leg. "Medical progress was not what it is now and so there was probably a need for more prolonged periods of hospitalisation but at least I was able to get a bed and quickly and I was treated in the hospital for a three-month stretch. I got the best of treatment and was given a month's aftercare in hospital after six months."
Larry O' Toole is calling for nationwide support for the upcoming Health Rally on 21 October. "Everyone should get behind this rally and do everything possible to make it a big success."
An Phoblacht Magazine
AN PHOBLACHT MAGAZINE:
Don't miss your chance to get the second edition of the 2019 magazine, published to coincide with Easter Week
This special edition which focuses on Irish Unity, features articles by Pearse Doherty, Dr Thomas Paul and Martina Anderson.
Pearse sets out the argument for an United Ireland Economy whilst Pat Sheehan makes the case for a universally free all-island health service.
Other articles include, 'Ceist teanga in Éirinn Aontaithe', 'Getting to a new Ireland' and 'Ireland 1918-22: The people's revolution'.