12 October 2006 Edition
Aer Lingus takeover - Call for EU to investigate
BY ROBBIE SMYTH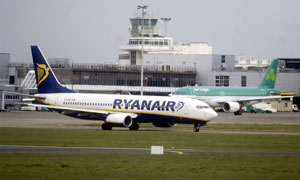 Ryanair's nuclear option
The war of words and bank accounts for control of Aer Lingus continues this week, as staff at the company explore options for increasing their 15% holding, while Ryanair chief executive Michael O'Leary has hit out at a claim by his own staff for parity with Aer Lingus pilots.
Meanwhile, Sinn Féin TD and Transport Spokesperson Seán Crowe and Dublin MEP Mary Lou McDonald have written a joint letter to the EU Competition Commissioner Neelie Kroes, urging the EU to investigate the attempted Aer Lingus takeover, which they believe is in contravention of European competition law.
However, it is clear that Ryanair's shock purchase of 19.2% of Aer Lingus shares and its €1.5 billion offer for the state airline have highlighted a massive failure in coalition transport policy.
It is less than two years since Bertie Ahern, in one of his more strident Dáil performances, told TDs that he wasn't "going to click my fingers because right-wing economists believe we should privatise. We are an island nation, heavily dependent on trade, overseas investment and tourism. There are very important strategic issues which have to be satisfactorily resolved."
Here we are two years later and none of these issues have been tackled. Transport Minister Martin Cullen was left babbling that the Ryanair offer of €2.80 a share was "opportunistic" and "calls into question where Ryanair is going with it".
Sinn Féin's Seán Crowe outlined in a statement what many believe is the Ryanair objective. Crowe said that a Ryanair takeover would have major repercussions for Aer Lingus employees, as the company has "a notoriously poor industrial relations record and an attitude of contempt to employees who attempt to stand up for themselves". Crowe fears for "the future of employee job security and working conditions".
Media reports have already suggested that O'Leary would cut 1,000 jobs within weeks, outsourcing catering and cutting US employee numbers. O'Leary has said that "there'll be nose bleeds at the speed we move things".
Ryanair is currently in competition with Aer Lingus on 17 routes, and control of Aer Lingus would give it 78% of the British-Irish aviation market. Though it has 17 bases around Europe, over 25% of its earnings come from the Irish market.
Ryanair is on course to carry over 42 million passengers in 2006, and some industry analysts believe that the Aer Lingus takeover attempt is recognition of the limits of the low-cost business strategy that has fuelled Ryanair profits to date.
Control of Aer Lingus would make Ryanair the major player in Dublin Airport and would give Michael O'Leary a major say in the running of the airport he is so critical of. So the ramifications of the takeover are huge and cut to the heart of the flawed coalition government transport policy which, in its rush to privatise the company, has now the potential to create a private sector monopoly that would be of little benefit to the Irish economy.
Sinn Féin's Caoimhghín Ó Caoláin TD, the party's Dáil Leader, summed up the Ryanair takeover strategy as "utterly repulsive".
Ó Caoláin said, "The Government's privatisation fetish will have substantial ramifications for the country's strategic economic interest. With a Ryanair takeover the focus will be on putting euros in Michael O'Leary's bank account rather than looking after the strategic economic interests of the Irish people."