10 August 2006 Edition
Remembering 1981: Seán Crowe TD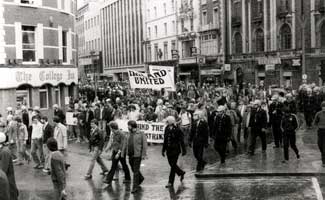 rt. I suppose some were nervous about expressing support, frightened of the potential of getting hassled by the Special Branch. At that time if you were active even on the periphery of things, they called to your home, to your job, constantly followed you, even out socialising. They stopped your friends and family in an attempt to try and isolate you. You were guaranteed a visit to your home if not a raid, which caused huge problems particularly for young people whose parents didn't share their views.
I remember a march we held out to Charlie Haughey's mansion in Kinsealy. He was Taoiseach at the time and had up to then created a persona around himself about his strong republican credentials. Hundreds of young people took part in the march and I was told later that he informed Mrs. Sands and Marcella, Bobby's sister, that there was nothing he could do and that the people outside were responsible for Bobby's pending death. He was later e a ghost town. The media and some politicians tried to explain away this active support by saying that people were intimidated into closing or leaving their jobs. It was a pathetic and disingenuous claim based on nothing but lies.
Unfortunately it was effective to a degree because the support of workers throughout Ireland for the Hunger Strikers has largely been airbrushed from history and memory. It was at a time of high unemployment and low wages yet working people risked a sacking to show their support.
Thousands travelled from all over the country to the funerals. I went to all of the Hunger Strikers' funerals. It was heartbreaking - the grief and anger building up inside you and the hurt and pain that was tying your insides in knots.
I remember the attack on the cortege at Joe Mc Donnell's funeral by the Brits and RUC as we walked to Milltown Cemetery. You could see plastic bullets flying and bouncing over our heads as they tried to arrest the Army colour party;