13 July 2006 Edition
Remembering 1981: Joe McDonnell's family honured in his 1981 constituency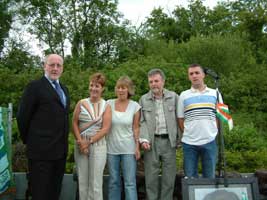 McDonnell remembered across Ireland
Republicans gathered throughout Ireland last Saturday to mark 25th anniversary of the death of IRA Volunteer Joe McDonnell after 61 days on hunger strike. Events took place in Belfast, Dublin, Derry, Cork, Sligo, Leitrim, Mayo, Waterford, Wicklow and elsewhere.
Speaking in Dublin at a rally outside the GPO Sinn Féin TD Arthur Morgan said: "Republicans are gathering across Ireland today to remember Belfastman Joe McDonnell who died 25 years ago after 61 days on Hunger Strike. Joe, who was married with two young children, was the fifth man to die on the 1981 Hunger Strike and was followed shortly after by Tyrone IRA Volunteer Martin Hurson.
"Joe stood as a candidate in the 1981 General Election in the constituency of Sligo/Leitrim and he received massive support, coming within a handful of votes of getting elected. At his graveside the former Sinn Féin TD for that constituency John Joe McGirl declared that the memorial we had to build for Joe McDonnell was the freedom and unity of the Irish people. That remains our goal as we seek to learn the lessons of 1981 and advance the cause of Irish independence in the times ahead."
On Sunday a large crowd gathered in Drumkeeran Village, County Leitrim to welcome Joe McDonnell's wife and children to the village to unveil a Commemorative Bench in their honour of the 1981 Hunger Strikers.
The crowd was addressed by Owen Carron, Bobby Sands' election agent in the 1981 Fermanagh/South Tyrone by-election, and by Sean Mac Manus, Sinn Féin candidate for Sligo / North Leitrim in the forthcoming general election.