13 July 2006 Edition
• This news feature is funded by the European United Left/Nordic Green Left (GUE/NGL)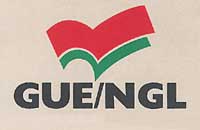 Rescuing public transport from market fanatics
BY STEVE McGIFFEN
A meeting of European Union transport ministers in Brussels earlier this month took a series of decisions that we can only greet with relief.
The important aspect of the issue under consideration was whether or not to force local and regional authorities to abandon their responsibility to provide an affordable and efficient system of public transport.
If the text of the ministers' agreement finally becomes law, public authorities will retain a high degree of autonomy, allowing them to keep public transport under their own control. Compulsory tendering for bus, train, tram and underground systems, as advocated by the unelected European Commission, is dropped for almost all categories and the expectation is that only regional bus transport will remain partly subject to tender.
The ministers' agreement represents the end of the "first reading" - half-time in the European Union's labyrinthine legislative system. Under that system, one Member of the European Parliament is given responsibility for co-ordinating the assembly's input. Known as the "Rapporteur," he or she will, under the proportional system of distribution by which the parliament organises its work, sometimes come from the left.
Happily - because, bizarrely, this really can make a difference to the final result - this was the case on this occasion, where the rapporteur Erik Meijer comes from the Dutch Socialist Party, a radical left party that forms the Dutch section of the United Left/Nordic Green Left group (GUE/NGL).
Meijer was a good choice. Not only is he a former urban transport planner, he is one of the few MEPs who relies on public transport, owning no car and travelling weekly from his Rotterdam home to Brussels and Strasbourg by train and bus, so that he at least knows what he is talking about.
Meijer was cautious in his welcome of an agreement that he nevertheless described as a "victory." It would, he pointed out, mean that more space would be available for experiments with free public transport and special fares for particular groups such as old people, the unemployed or students. Instead of the market determining all, public authorities would be able to take decisions on the basis of economic criteria that could include true cost-benefit analysis and consideration of real public good. Long-term goals could be pursued and socially and environmentally beneficial systems developed.
Meijer also warned, however, that there is a long way to go. A meeting of the European Parliament's transport committee, which took place a few days after the agreement was reached, revealed that, when the parliament reconvenes after its summer recess and the text returns for further consideration, much work will remain to be done.
Christian Democrats and Liberals, the two centre-right groups which together form a majority of MEPs, revealed that they were unhappy with the accord and, specifically, with the watering down of the requirements on tendering. German Christian Democrat Georg Jarzembowski, the group's transport co-ordinator and a neo-liberal fanatic, said that "the parliament must put the teeth back into the regulation when it comes back for its second reading".
Transport commissioner Jacques Barrot, however, replying to this, said that the agreement represented a compromise between the market and "social Europe".
"For the first time, the commission is recognising that some economic services, such as public transport, are of general social importance," Meijer said during the debate, "and that member states therefore retain the right to subsidise these services without there being any question of unfair competition through financial support from the state. This is truly a first in this neoliberal never-never land."
Meijer knows full well what the results of the European Commission's original proposal would have been. In the Netherlands, public transport was thrown to the market wolves five years ago, with disastrous consequences in a country which, for more than half a century, had represented best practice in local, regional and national systems. The result has been gridlocked roads within and between cities.
The government's proposed solution is to charge motorists according to the distance that they travel. This may seem environmentally friendly, but, as Kathleen van Brempt, the minister in charge of the superb public transport systems in the neighbouring Belgian autonomous region of Flanders said recently, to run down public transport and then charge people for the consequences is hardly fair.
Flanders, the northern, Dutch-speaking area of Belgium, which has around six million inhabitants, demonstrates that, by investing in public transport, it's possible to get traffic moving again. A mix of subsidised, affordable, efficient systems, bold experiments - in one town, Hasselt, buses are free to all - and tight anti-pollution regulation has made the region a model for the world. In the last 10 years, use of urban and regional public transport has doubled, while the number of kilometres travelled by car has now stabilised.
Local and regional public transport should be under local and regional control. It is for elected national parliaments and governments to set the framework for that control.
The European Commission's excuse for sticking its nose into what is, by any standards, hardly a "European" issue, is that it is necessary to prevent publicly owned or state-subsidised transport corporations from entering into unfair competition by bidding to buy deregulated services in other parts of the EU.
Fair enough, but this would be achievable with a simple ban which need have no effect on the decisions taken by democratically elected authorities which simply want to fulfil their responsibility to provide a public service in their own areas.
This is so clearly the case that it reveals the Commission's argument to be what it is - one of the lamest and most transparent excuses for enforced deregulation that it has ever come out with. Despite the commissioner's defence of the agreement, there can be little doubt that he will back any European Parliament attempt to give it back the "teeth" with which it would have ripped the heart from public transport in 25 member states.
The bus you catch to work, the tram that you take to town so that you can safely enjoy a drink on a night out and the train that you get on to travel around your region have absolutely nothing to do with fanatical deregulating eurocrats who have invariably not seen the inside of a public transport vehicle - other than business class on planes and first class high-speed train carriages - since their student days.
• Steve McGiffen is spectrezine's editor and the author of The European Union: A Critical Guide (Pluto Press, 2005)
Demand for talks on EU constitution
A majority of citizens across the union want the EU constitution either revised or binned, a new European Commission survey has revealed.
Almost half 47% of EU citizens want re-negotiations on the current text of the EU constitution, according to a new Eurobarometer survey released by the commission on Thursday, 6 July.
A minority, 13% of it should be completely binned, while almost a quarter, 23 % favours continued ratification in member states.
Opinions only slightly differ from the results of a Eurobarometer survey last autumn.
The survey also reveals that support for the general idea of a European constitution remains stable.
Enlargement unpopular
Meanwhile, EU enlargement is becoming increasingly unpopular, the survey found.
The amount of EU citizens endorsing further expansion of the union dropped by four points to 45%.
Enlargement continues to be much more popular in the new member states than in "old" Europe, with 66% compared to 41% of citizens expressing support.
But it appears that in the new states, citizens are also questioning the idea of letting in new countries, with support for enlargement dropping by 9 points in Slovakia, Lithuania and Cyprus and by 7 points in the Czech Republic.
But perhaps the most spectacular aspect of Thursday's Eurobarometer is a huge drop in EU enthusiasm in candidate state Turkey, which opened formal accession negotiations with Brussels last October.
The percentage of people with a positive image of the European Union has fallen from a majority of 60 to a minority of 43% while Turkish "trust" in the EU has slipped from 50% in autumn to 35 percent this spring.
Turkey's entry talks have so far proven extremely difficult, with Brussels complaining about Ankara's stance on the Cyprus dispute while several member states have raised political issues in technical negotiation chapters.
What is clear from this most recent poll, whether the subject is the Constitution, enlargement or Turkey, the EU has been unable to recover from its ongoing crisis. EU leaders remain directionless, their period of reflection producing only more uncertainty and confusion. For their part the EU Commission's much hyped re-engagement with EU citizens appears to have backfired.
MEP's Diary.... BAIRBRE de BRÚN
The final European Parliament session before the summer recess took place in Strasbourg last week, as the French city came alive with World Cup fever. In the midst of French celebrations at reaching the final, MEPs gathered to discuss a wide range of issues including signing off on the EU budget, continuing probe into illegal CIA rendition flights, the fight against AIDS and the deteriorating situation in Palestine.
On the Monday evening, I addressed the European Parliament on the continuing crisis within the peace process. Assembled MEPs were informed that the DUP have shown no interest in sharing power and have been allowed by the two governments to prevent progress being made. This situation remains wholly unacceptable. There is a huge responsibility on both governments to move the process forward. They must act to bring about the full implementation of the Good Friday Agreement, which remains an internationally recognized treaty.
There is a tremendous amount of goodwill across Europe towards Ireland and in support of the peace process specifically. However, if both governments do not act to collectively drive forward the process, then it will begin to quickly unravel.
On Tuesday, I made a second speech in the EU Parliament welcoming the latest tranche of both EU Structural and PEACE funding. I have been lobbying hard both at home and at the European Parliament in support of the Structural Funding programme. I am delighted that 308 billion Euros has been agreed between the years 2007 - 2014 across the EU, although I would like to have seen more to take account of Enlargement.
The vote on the new funding regulations will ensure that the money can be available from 1 January 2007 as planned. There were fears that the failure by EU leaders to agree on a budget for the next seven years would hold up spending. Thankfully this is not now the case. I am particularly pleased that Ireland, North and South can expect more money this time around for cross-border co-operation as well as Euro 200 million for the PEACE III programme. However, we can expect less funding overall than in the past, so it is essential that the funding is put to best use. Structural Funding should be community based and driven, and we can learn a lot from other countries with regard to empowering local communities and local democratic structures.
• Minister for Defence Willie O'Dea
The issue of extraordinary rendition flights was again high on the agenda of July's plenary session. Further revelations have emerged about Ireland's alleged complicity in this process.
In 2002, six Bosnian men of Algerian origin were sent to Guantanamo by the process of extraordinary rendition, where they remain until the present time. They were taken from Camp Butmir, Headquarters of the NATO led Stabilisation Force (SFOR) in Bosnia. The men were handed over to US forces. They must be presumed innocent in any case, but their innocent claim is all the stronger as the Bosnian investigation into them was wound up after revealing no evidence linking them to Œterrorist threats.
As Irish troops were serving at the Stabilisation Force Headquarters as Military Police at the time of the hand over, this has caused great concern in Ireland. There is also a growing belief that Shannon Airport and Majorca are the two most frequently used EU airports for rendition flights, being situated half way between the third countries in question, such as Afghanistan, and Guantanamo Bay. Minister for Defence Willie O'Dea must fully answer all questions about this latest incident and Ireland's role in the process of extraordinary rendition.
Strasbourg In Brief
Bairbre de Brún calls upon new Finnish Presidency of the EU to prioritise the fight against racism and homophobia. She said: "People across the Six Counties are acutely aware of the effects of hate crime, particularly in the summer months, at the height of the marching season when sectarian attacks reach their peak. In addition, attacks upon migrants and settled members of ethnic minority communities continue."
Bairbre responds to UUP MEP Jim Nicholson's comments that the decision to make Irish an official and working language of the European Union on 1 January 2007 was a waste of taxpayers'' money. She said: "Jim should put aside his obvious disdain for the Irish language and recognise that Irish deserves to be on a par with the other languages of Europe. This is an issue of equality. For many unionists, the fundamental issue of equality remains an alien concept."
An EU Barometer' survey reveals that whilst 79% of people in the 26 Counties have heard of the European Constitution two thirds of respondents have little knowledge of its contents.
An Phoblacht Magazine
AN PHOBLACHT MAGAZINE:
Don't miss your chance to get the second edition of the 2019 magazine, published to coincide with Easter Week
This special edition which focuses on Irish Unity, features articles by Pearse Doherty, Dr Thomas Paul and Martina Anderson.
Pearse sets out the argument for an United Ireland Economy whilst Pat Sheehan makes the case for a universally free all-island health service.
Other articles include, 'Ceist teanga in Éirinn Aontaithe', 'Getting to a new Ireland' and 'Ireland 1918-22: The people's revolution'.