13 July 2006 Edition
Hunger Strikers, Guevara and McElwain inspire at youth event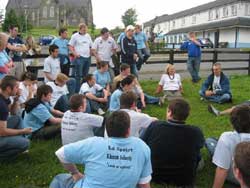 Coiste Youth Camp a great success
Up to 70 young people attended the Coiste na nIarchimí fourth Annual Youth Camp on Friday 23 and Saturday 24 June. Organised under the republican ex-prisoners Processes of Nation Building Programme and funded under European Peace Funding, Campa Náisiúnta Óige took place in Sliabh Beagh Tourism Centre in County Monaghan.
Sinn Féin TD Caoimhghín Ó Caoláin welcomed the participants from nine counties across the island and praised the organisers for their choice of venue before formally opening proceedings.
The theme of this year's camp was Che Guevera - his Irish connection, and the 25th anniversary of the 1981 Hunger Strike.
Sharing his memories of previous elections, Caoimhghín Ó Caoláin pointed out that he had been unsuccessful in three previous election campaigns for Sinn Féin. These results, republicans in Cavan/ Monaghan found frustrating but each time they dusted themselves down, analysed where they had gone wrong and came back stronger each time.
Perseverance paid off in that Sinn Féin is now the largest party in the constituency and gained more first preference votes in the last election than the combined vote of Fianna Fáil and Fine Gael. This, Ó Caoláin stressed, can be achieved countrywide if activists put their mind to it.
Participants were treated to a film documentary on the life and times of Che and a presentation from the Cuba-Ireland Solidarity Network. This was followed by a short presentation by Jim McVeigh, the last O/C of republican prisoners in Long Kesh. He outlined the various roles Che had played as guerrilla fighter and later in finance and industry, helping build a new Cuba.
As well as the serious political discussion and debate, Barry Kerr and friends provided musical entertainment. Barry is rapidly becoming recognised for his song-writing talents and a voice that uncannily sounds like Dick Gaughan, the Scottish folk singer who Kerr supports on his forthcoming tour in the Six Counties.
Saturday's events began with a tour of the local area by Jimmy Cosgrove and another former O/C of republican prisoners in Long Kesh, Seán Lynch. On return to Sliabh Beagh, Lynch expanded on the tour by sharing with the participants his reminiscences of IRA Volunteer Séamas McElwain. McElwain had lived in the Sliabh Beagh area and was a close friend and comrade of Lynch.
In a poignant moment, Lynch described how both he and Séamas were intercepted by the SAS while on active service. McElwain was shot dead, some 20 minutes after his capture by the SAS and it was only through the inability of the SAS to immediately capture Lynch that saved his life.
Seán Lynch praised the involvement in politics of those who attended the Youth Camp and played down any notion that involvement in armed struggle was a glorious, romantic adventure. "Yes," he said "armed struggle was necessary and correct but it was also hard and brutal and where alternatives are available these alternatives should and must be taken up."
The day ended with Lá Spóirt Kieran Doherty. Based on the 'Laughter Of Our Children' quote, the Lá Spóirt was modelled on a school sports day format. Complete with an egg an' spoon and sack race, it was a fitting end to two great days of activity.
Praising the enthusiasm of participants in the Youth Camp, Dominic Adams, Coiste Youth Outreach Worker said: "Each year Campa Náisiúnta Óige grows in size and attendance. It is becoming an All Ireland event and already we are planning for next year. The participants were great in their enthusiasm, not only for the craic which was had but also for their politics and awareness."
• Seán Lynch and Dominic Adams