29 June 2006 Edition
The Matt Treacy Column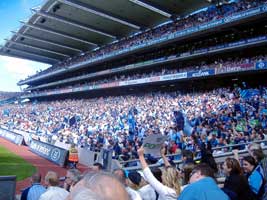 The pansies have bloomed!
There is a school of thought in Laois that a crucial factor in their defeat last Sunday by Dublin was the motivational impact of the publication in the Laois Nationalist of an article that provided what was presumably meant to be a tongue in cheek description of the Dublin team and supporters. The following extract gives a flavour:
"It's easy to spot the Dublin born player, he's the male model. He'll normally sport a healthy tan for 12 months of the year, even during the wettest, coldest days of winter. He is the one player in the changing room guaranteed to bring hair gel, shampoo and deodorant. What a shower a pansies." Indeed.
Now, having experienced GAA dressing rooms in Dublin since I was 7 - equivalent to sending your child to be a galley slave - the one thing that is never missing is an incentive to win and a suitably deranged individual to reinforce that inspiration with blood curdling tales of the brutality, slyness and dubious origins of the opposing club.
I can only imagine then that the Dublin backroom team were rubbing their hands together when this gem was brought to their attention. "D'ye know what they're saying about you in Laois lads? That you're a shower of bleedin' pansies. That the only thing you care about is your skin care products and shampoo. What do youse think of that?"
They would conceive it as an insult to their manhood.
"So what are youse going to do about it?"
Redeem their manhood and salvage the honour of the Metropolis.
This is what most sports psychologists would expect the response to be. Although I remember being told of one chap at half time during a particularly torrid Junior hurling match who was being berated by the manager for his cowardliness in the face of extreme provocation. "He's fuckin' laughing at ye. He's belting the bejaysus out of you and you're doing nothing. And he's going to do it again. So what are you going to do about it?" Your man considers his position for a moment before getting up and taking off his jersey. "I'm going home."
Anyway, I doubt actually if the ill-conceived but humorous piece described played much of a part in the downfall of Micko's Laois. I confess to having been worried. Not Kerry worried, or Tyrone worried but worried all the same. Ciara knew Dublin were going to win and attempted to persuade me that we had some sort of a bet on this. I admire her deviousness. And her detachment. At the height of the match she even managed to engage me in a discussion on the ingredients of the ice creams we were eating. Or rather the ice cream she was eating and that I was using variously to stab myself in the eye or to lather the shining pate of the man sitting in front of me.
As it turned out there was little to be worried about. My reading Micko's biography in the early hours of the morning and convincing myself that he was going to end his 50-year-long tussle with the Dubs by hatching some fiendish and cunning plan, was time that might have been better spent. Doing sudokus or the like.
As for the match itself, it may ultimately tell us no more about the real nature of this Dublin team than the victory over Longford. After that, all the talk was of how little Dublin appeared to have improved since last year. Now, they have been installed as second favourites to win the All Ireland and some of the same pundits who were lambasting them three weeks ago are now talking them up as potential champions.
It was certainly the most impressive Dublin performance for a long time at this level. Indeed it is the first time since the qualifier system came into being in 2001 that a Dublin team has comprehensively defeated a genuine contender. Laois may no longer be seen in that light but that was not the case up until around three o'clock last Sunday. They have been one of the most attractive teams of the past two or three years and they were simply taken apart. It is true that Padraig Clancy's departure had an influence but the result would not have been much different had he not been injured. Dublin's 14-point margin could easily have been more and indeed ought to have been except for the inexplicable disallowing of Alan Brogan's goal
It was a day when everything went right for Dublin although those of us with a less sunnier outlook on life will have noted that the defence did look a bit vulnerable for those short periods, about ten minutes before Quinn's first goal and again at the start of the second half, when Laois were able to mount some sort of offence.
In truth the only real moments of concern came in the first five minutes of the second half when Laois scored the first two points and we were back to last year's Leinster final scenario when Dublin's half time lead was quickly wiped out. "Didn't this happen last year?" said Ciara. "This happens every year!" I cried. But I need not have panicked. By the time I had wiped the ice cream off the man in front's head and apologised profusely the crisis had been averted.
Then came the goals. First Brogan, then Mossy and then Ray Cosgrove who got onto the end of a superb pass from Jason Sherlock. It was pleasant then to be able to experience that rare phenomenon of being able to relax for the last 15 minutes of a big game involving Dublin.
As we left I glanced back to see a forlorn Micko standing on the sideline congratulating Dublin players on their way off. Gracious as ever. And hard to believe that for the first time in 30 years my sleep will no longer be disturbed by nightmares conjured up by the wizard from Waterville. I hope.......
As for the Dubs. As selector Dave Billings said after the match, "the pansies have bloomed". May it not be a false spring!