29 June 2006 Edition
Dublin Cúige: Planning for challenges and opportunities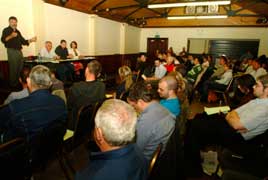 Dublin activists engage in "renewal and regeneration"
Sinn Féin members in Dublin gathered in the Teachers' Club in Parnell Square last Saturday and examined issues such as campaigns, organisational structure, recruitment, training, poilitical education, Ógra Shinn Féin and electoral planning.
The meeting of activists and members from across Dublin City and County was the culmination of a five-week review process which seeks, among other things, to ensure that the party's Dublin organisation is put on its best footing for a forthcoming general election in the 26 Counties. Saturday's meeting was addressed by Party President Gerry Adams.
The review process featured the direct involvement of activists from the Six County Cuige, including Six County Cúige Chair Declan Kearney, and follows on from a highly successful review of Sinn Féin in Belfast last year which has resulted in a much invigorated and highly focussed Belfast organisation.
Saturday's meeting outlined a "10-year vision" for Sinn Féin in Dublin with long term and intermediate objectives in a range of areas. Key targets include doubling party membership in Dublin, maximising the Sinn Féin vote in all Dublin constituencies and a series of high-profile political campaigns which will seek to pressurise the 26 County government in the run-up to the next general election.
Chaired by Eamonn Nolan of Sinn Féin's Election Department, the meeting was addressed by Dublin Cúige Chair, Michael Carr who outlined the series of meetings which had taken place across Dublin in previous weeks. He thanked Declan Kearney and his team from the Six County Cúige for the work they had done.
Well of ideas
Declan Kearney delivered an overview of meetings with a range of key party activists in Dublin and he thanked everyone for their input to the process. He described the series of Dublin meetings as "a renewal and regeneration process". He said that, in all, 26 meetings had taken place. A "great well of ideas" was presented by members and Kearney outlined many of them. He pointed out that the substance of his report was "the Dublin organisation speaking to itself", adding that Dublin activists had the key to the struggle in their hands.
Sinn Féin Party Chair and Dublin MEP Mary Lou McDonald brought the meeting through an Outline Strategic Framework which dealt with a 10-year vision for Dublin Sinn Féin and intermediate objectives and recommendations for the year 2006-2007.
The meeting was then opened to the floor with several activists urging focussed preparations on upcoming elections and a greater involvement of people within the community in what Sinn Féin was trying to achieve locally and nationally. Other contributors called for greater internal communication and more involvement in the time ahead of long term republican activists and of party councillors in day-to-day planning.
Republicans urged to think big
Concluding the day's proceedings, Gerry Adams urged Dublin republicans to "think nationally, act locally". He said that Sinn Féin wanted not merely to get rid of partition but also to build a socialist republic. That, he said, could not be done without a party like Sinn Féin.
Adams said that Sinn Féin members in Dublin had to start thinking big, to think about taking political power. He said "a huge amount of people want to be part of what we are", and said that the party had to make it easier for people to be members of Sinn Féin.
Those attending Saturday's meeting felt that it provided a worthwhile springboard for the huge opportunities and challenges which lie ahead for the party in Dublin.