29 June 2006 Edition
Parades Commission has no credibility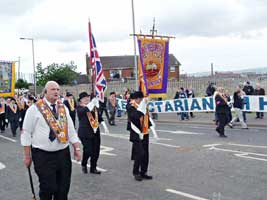 The credibility of the North's Parades Commission and its chairperson Roger Poole hit rock bottom last weekend after it allowed over 700 Orange marchers and up to 16 loyalist bands to parade through the nationalist Springfield Road in West Belfast.
By contrast nationalist protesters, objecting to the parade, were ordered to confine their picket to a 100-metre stretch of the road between the contentious Workman Avenue peaceline to the Mackies site.
Speaking to An Phoblacht Sean Murray of the Springfield Residents' Action Group accused the Parades Commission of exercising, "a blatant double standard".
"The Parades Commission and its chairperson Roger Poole facilitated a loyalist march up the nationalist Springfield Road but refused to facilitate a nationalist protest.
"This Parades Commission has no credibility, nor integrity in face of these decisions", said Murray.
Murray went on to describe the Commission's decision to allow 50 Orangemen to march through the Workman Avenue peaceline and parade along the Springfield Road to Mackies, where they rejoined the bulk of the parade, as a retrograde step.
"The Commission, in effect, permitted two parades on the Springfield Road. But the real problem lies in the fact that the Orange Order is confirmed in its belief that violence works."
Murray was referring to the violence that erupted in loyalist areas of Belfast after last year's Whiterock parade was rerouted through Mackies.
And while Saturday's march passed off peacefully the fact remains that yet again an offensive loyalist parade was permitted to march along the full length of the nationalist road.
Paramilitary displays
Among the bands taking part in the parade were at least two, who in defiance of the Parades Commission determination, were displaying unionist paramilitay banners bearting the initials of the UVF and YCV.
One resident speaking to An Phoblacht, criticised the Orange Order over its attempt to legitimise what is in reality a unionist paramilitary parade.
"Most of the bands have UVF and UDA links and their insignia is made up of paramilitary emblems", said the resident.
The nationalist resident also pointed out that while the Orange Order claims the march only takes 15 minutes to cover the Springfield Road, "the truth is that a heavy PSNI presence is in place for hours before the parade. We are under curfew from 9am in the morning waiting for a parade to pass at 3.30pm".
Meanwhile Sinn Féin councillor Tom Hartley praised the, "dignity and restraint", of the 150 nationalist protesters who lined the Springfield Road between Workman Avenue and the Mackies as the Orangemen passed by.
Hartley accused the Orange Order of provocation and questioned why one parade marshall was using a camcorder to film the nationalist protesters.
"One man in particular was filming nationalist residents. This is a sinister development and raises the spectre of loyalist intelligence gathering."