22 June 2006 Edition
Media View BY FRANK FARRELL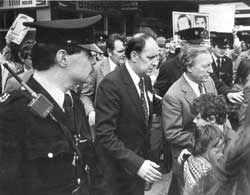 No political analysis of Haughey era
Amongst the army of political pundits and media experts who recently spewed forth a trillion words on the legacy of Charles J Haughey, few if any ventured a serious political analysis of why Haughey was such a controversial personality.
It is a fact that media and establishment hatred of Haughey existed long before his corruption became known and even before his administrations of the late '80s and early '90s. This begs the question of just why Haughey became a bogeyman for The Irish Times, RTÉ current affairs and most of the media between 1970 and the following decade. It is at bottom a profoundly political question but wading through the acreage of media commentary in the last week- as well as the last few decades- one finds no political analysis of Haugheyism or modern Fianna Fáil. Yet rank and file party members revered Haughey and ensured that he beat off political challenges from people who went on to form the right wing, anti-republican PD party.
It is the ordinary FF member as well as broadly republican people who had reason to feel cheated by Haughey, not the bankers, non-productive old-moneyed parasites, the professions, the Fine Gael party or the establishment media. For while he was fighting to seize and maintain leadership of his party, Haughey posed as a republican, a supporter of trade unionists and a protector of the less well off.
Those were his sins at that time and a study of media attacks on him 25 years ago show that the vitriol that was poured on him by an hysterical media was essentially a veiled polemic against these 'failings'. In the jargon of the right wing Haughey was attacked for his refusal to stand up to the unions ('fiscal rectitude'), his profligacy with state funds (social welfare and the public service) and his playing of what commentators called 'the green card' (rhetorical republicanism and the Arms Trial).
The 'dangerous' Haughey of this period was dangerous because he raised expectations amongst ordinary working people and republicans who were demoralised by the craven Jack Lynch and Garret Fitzgerald and intimidated by right wing economists. Haughey once remarked that he was trying to run a country, not an economy, in direct response to these Thatcherite attacks dressed up as liberalism and pleas to save the country from economic ruin.
Throughout this period, The Irish Times led the charge against Haughey and a radicalised- however superficial and transient - Fianna Fáil. Geraldine Kennedy, Dick Walsh, Fintan O'Toole, Peter Murtagh and others whose politics spanned Fine Gael, the Workers Party and Labour, were among the chief Haughey baiters and they returned to the fray last weekend - they even dragged Walsh from his grave to dance on Haughey's.
These were the same people who lauded the 'responsible' government of Garret Fitzgerald and Dick Spring that succeeded Haughey's administration in the early '80s and which proceeded to try and fail to 'rescue' the economy via a right wing programme of cuts leavened only slightly by Labour's caution in destroying their own political base. The result was paralysis and the establishment turned to Haughey.
By this time, Haughey had been tamed - on the North, the economy and public expenditure - and the Independent Group began to support him as the only politician who could implement their pro-business agenda.
This is when Haughey should have been reviled- for his betrayal of ordinary people and nationalists who believed that he would stand up to the bankers in Dublin and Thatcher in the North. These were his real political failings as he behaved like a classic Fianna Fáil leader who stood for the people but acted for their enemies when in power.
But a strange thing happened as sections of the media shed their hatred for Haughey and began to laud the court of Charles Haughey as he rampaged through the most vulnerable sections of society, bound the unions via national agreements and dropped any type of assertiveness on the North. He had, of course, already failed the Hunger Strikers in an earlier administration but he did not abandon republican rhetoric until he took power in 1987.
There were elements in The Irish Times and others like the Unionist caricature that Conor Cruise O'Brien had become who could not forgive Haughey for his earlier transgressions. But 1987 began a golden period for Haughey as the establishment realised that Haughey now wanted nothing more than to be part - and political leader - of their club. The Sunday Independent was to the fore in lauding the Nero-like court of Haughey with its flunkeys, courtiers - he even had his very own courtesan, according to her own scribblings - and a phalanx of writers and artists who led a chorus of praise to the great benefactor. No longer dangerous, according to the newly converted media, Haughey turned his talents to cutting public services, the health service, social welfare benefits and generally being a better right wing politician than those he had previously affected to stand up to. No wonder Tony O'Reilly's newspaper empire backed him and forgave him, even if the anti-nationalist snobs at The Irish Times, could not.
Haughey's corruption was the sequel and this has obscured the real reasons why he had earlier become such a demon for the establishment. Old money has no need of corruption - their parents or grandparents were the ones who did the dirty work in enriching their families who then go on to preach ethics to workers and those who want to break into the golden circles - and it looks down on pretenders like Haughey. But greedy financiers and property developers, old or new, use whatever methods they can, legal or otherwise, to rise to the top and stay there. The trick is to do it within the law or alternatively, not to get caught breaking it.
Haughey's failures and betrayals were in abandoning the ordinary people to whom he gave false hope in his earlier years. It is Irish workers, small farmers, the dispossessed and republicans in and out of Fianna Fáil standing behind Haughey who were the real target of the media and who, tragically, then became Haughey's victims.
Haughey was the ultimate Fianna Fáil leader who marched his troops to the top of the hill and then left them there while he returned to his castle in Kinsealy. No wonder the entire political media refuses to offer a serious political analysis of Charles J Haughey.
An Phoblacht Magazine
AN PHOBLACHT MAGAZINE:
Don't miss your chance to get the second edition of the 2019 magazine, published to coincide with Easter Week
This special edition which focuses on Irish Unity, features articles by Pearse Doherty, Dr Thomas Paul and Martina Anderson.
Pearse sets out the argument for an United Ireland Economy whilst Pat Sheehan makes the case for a universally free all-island health service.
Other articles include, 'Ceist teanga in Éirinn Aontaithe', 'Getting to a new Ireland' and 'Ireland 1918-22: The people's revolution'.