22 June 2006 Edition
Remebering 1981: Derryman is twelfth person to join Hunger Strike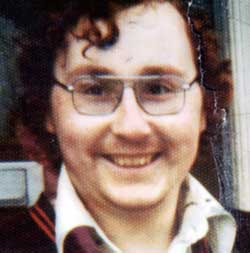 Mickey Devine
The twelfth man to join the 1981 Hunger Strike was Mickey Devine from Derry. He was the third INLA member to join the 1981 Hunger Strike and had assumed the role of INLA O/C in the Blocks after his friend and comrade, Patsy O'Hara, commenced his hunger strike and he continued in this position even when on the protest himself.
Born on 26 May 1954 into the slum that was Spring Town Camp on the outskirts of Derry, a former US military base in the second world war. The sectarian Derry council of the time used it to house impoverished nationalist families in the most appalling of conditions. Mickey Devine's sister Margaret recalled that the huts were ok during the summer but leaked during the winter. One of Mickey's earliest memories was lying in bed with a stack of coats over him to protect him from the rain.
Perhaps a sign of the single mindedness and determination of his character was that he supported Glasgow Rangers throughout his youth, a difficult course of action for anyone growing up in nationalist Derry.
Devine was present at the Bloody Sunday massacre in Derry in February 1972 and it had a profound effect on him. He said at the time "I will never forget standing in the Creggan chapel staring at the brown wooden boxes. We mourned and Ireland mourned with us."
Micky was assaulted by the RUC on two occasions in 1969, around the same time as the infamous assault on civil rights campaigners at Burntollet. He joined the Stickies in 1971 and people who remember him from that time recall an able soldier who was 'game for anything'. Increasingly disillusioned with the Sticks he defected to the INLA in 1974 and was a founding member of that group in Derry city.
Devine fought the brave fight despite the overwhelming odds arrayed against his fledgling organisation. He was eventually captured after an arms raid in Donegal. He made it back to Derry only to be captured and eventually, on 20 June 1977, sentenced to 12 years imprisonment. Devine immediately joined the blanket protest and 22 June 1981 he went on hunger strike.
It is an indication of the principled and committed nature of Mickey Devine that at the commencement of his hunger strike in 1981 he had only 13 months of his sentence remaining.