22 June 2006 Edition
Partnership deal even worse than expected
BY Justin Moran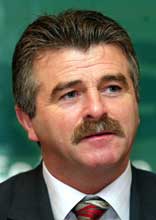 The latest Partnership deal agreed between Government, unions and employers last week is an even worse than many critics expected.
As An Phoblacht goes to print the Government has announced a staggering 84% pay rise for directors of state companies, including the directors of Aer Lingus, under threat of privatisation, and An Post, who claim to be unable to pay workers pay commitments made in the last agreement. Last week we reported an 8% increase this year for Eircom directors.
Pay increase derisory
Yet for workers, the new deal proposes only a 10% increase over a 27 month period. With inflation currently running at 3.9% and expected to rise, this means workers are being asked to sacrifice merely so that their wages keep pace with inflation. This does not take into account increased interest rates, rising house prices or spiralling energy costs.
Sinn Féin workers' rights spokesperson Arthur Morgan TD described the pay deal as 'derisory' and said low-paid workers were the least likely to benefit.
"At a time of growing income differentials between the highest and the lowest paid workers the additional measly half per cent increase for low paid workers is derisory," he said.
"A recent NESC report found that in the 26 counties the richest 20% of the working age population now earns 12 times as much as the poorest - one of the highest levels of market income inequality amongst OECD countries. The same report found that nearly 14% of households in poverty are now headed by those with a job, a rate that has doubled over the last decade.
"While increases contained in the new deal may seem significant to some it must be remembered that low paid workers lose where, as in this agreement, percentage wage increases are applied. A 10% pay increase amounts to a significantly larger sum for higher paid workers compared to what it means for low paid workers."
Unions cave in
Union negotiators caved in on a key pay demand going into the negotiations. Employers have been able to duck their commitments under the deal by arguing, with a low standard of proof required, that they are unable to pay promised increases. Unions seem to have backed down on an 'ability to pay clause' demand that would have allowed claims for pay increases to be lodged with profitable companies.
Union representatives even gave the Government a commitment to support outsourcing of jobs to low-paid non-union workers if management can claim it is necessary to "avoid excessive delays in delivery of service". Such is the eagerness of the ICTU bureaucracy for a deal, they are prepared to cut their own throats by outsourcing unionised public sector jobs.
Positive elements?
While there are positive elements to the proposed deal, many of these centre around commitments from the Government to implement laws already on the statute books. As Arthur Morgan pointed out: "It is totally wrong that vulnerable workers have had to await the outcome of a social partnership deal before seeing their existing rights enforced.
"It is abhorrent that proper enforcement of existing labour law should be seen as a concession to unions or used as a bargaining chip in negotiations. This - the requirement for workers to bargain for basic rights and entitlements - is, along with the democratic deficit created by the process taking precedence over the Dáil, among the fundamentals flaws of the social partnership process."
Maternity and paternity leave, an increase in the lowest level of paid holidays in Europe, pensions, the list of defeats at the negotiating table achieved by union negotiators is lengthy and continues to grow as activists pore over the details.
Fight back
Despite media commentary, unions have not signed up to the deal. Members must be balloted before any deal can be agreed. The question now is whether critics can mobilise support to reject the deal.
A positive indicator comes from the Teachers Union of Ireland whose Executive Committee voted at the weekend to call on members to vote against the deal.