18 May 2006 Edition
Nuacht na nOibrithe - Safety the issue in Iarnród Éireann dispute
BY Justin Moran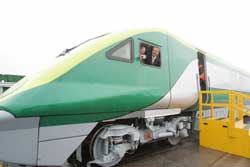 Unofficial action at Iarnród Éireann this week gave the media another opportunity to fall back on its panto like representation of industrial disputes, where customers and passengers suffer at the hands of evil trade unionists. The reality is that the safety of those passengers is at the core of the confrontation between Iarnród Éireann workers and an increasingly obdurate management.
The dispute began when National Bus and Rail Union members in Kent Station, Cork, refused to drive the new Intercity Mark 4 train on the Cork to Dublin route.
"Iarnród Éireann decided to put on a Mark 4 train and our driver said he wasn't qualified to drive it," said Ken Collins, a driver at the station.
"We had one day's introductory training in Limerick. That is all we have had. Even the company agreed we needed more training. So we said we weren't prepared to drive the train.
"But we were willing to drive our regular trains. We asked to defer the introduction of the new train until a planned meeting on Wednesday, but they flatly refused to do so."
Following the refusal of the two Cork drivers to take out the trains, drivers in Limerick and Dublin joined Cork drivers in refusing to drive the trains in solidarity. Services to Cork, Galway, Mayo and Limerick have been shut down while the Waterford service is operating fitfully.
SIPTU's National Industrial Secretary Mick Halpenny, speaking ahead of a meeting of the joint locomotive drivers' committee on Tuesday morning, which includes SIPTU and NBRU members, pointed out that the difficulties drivers had were made clear to management at the end of last week but management insisted on going ahead with the introduction of the new train.
His position was supported by the NBRU, who had asked Iarnród Éireann to defer introduction of the new trains until the difficulties had been resolved.
As An Phoblacht goes to press, both SIPTU and the NBRU have said that their members will return to work but they will not be operating the Mark 4. The move follows 14 hours of negotiations. Iarnród Éireann's Director of Human Resources, John Keenan has promised a definitive statement on the introduction of the Mark 4.
Strike threat as Waterford City management ignore workers
Management intransigence at Waterford City Council, in refusing to engage with Council workers, could culminate in strike action from next Monday.
SIPTU Branch Organiser David Lane says workers in other local authorities are earning up to 50% more for performing the same duties. SIPTU has been seeking a resolution of nearly 40 outstanding issues in negotiations with management, either directly or through the Labour Relations Commission, since last June.
Some 135 manual workers are involved in the dispute, which could see pickets placed on all Council premises. Among services affected will be water, sewage, housing, roads, traffic, litter, libraries, open spaces, parks and cemeteries, though some emergency cover will be provided.
Local Sinn Féin councillor David Cullinane is clear as to where the problem lies. "Management have only days left to avert this dispute and if they fail to do so the responsibility for the disruption lies with them," he said.
"Nobody in Waterford wants a strike that will severely affect Council services, but the reality is that the SIPTU has been seeking to engage to resolve a large number of issues for almost a year while management has failed to take part in a dialogue with workers that could resolve this dispute."
Mandate takes on major retailers
Giving the lead to other unions who have opted out of the Partnership process, retail worker's union Mandate have lodged claims for substantial pay increases with 18 different major retailers including Dunnes Stores, Arnotts and Supervalu.
Linda Tanham, Mandate's Industrial Relations Officer, says that the union is seeking an extra euro an hour on the basic rates in an industry where the average starting pay is €8 an hour. She dismisses suggestions that companies would be unable to afford increases of over 10%.
"We did not take this decision lightly," she said. "We commissioned research which shows that in the last ten years profits in this sector have increased three times as fast as wages. We believe we have fallen substantially behind workers in other sectors.
"Our union is predominantly made up of low-paid workers in the services sector. These are the people hardest hit by massive price hikes in electricity, gas and transport costs."
Mandate announced last year it would not be involved in negotiations on a new pay deal, pointing out that it had failed to deliver for low-paid workers.