18 May 2006 Edition
All-Ireland - the only way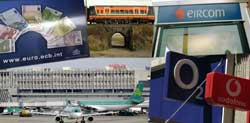 Economy: Words on island-wide integration need to be matched by action
Who wants an all Ireland economy? Northern Secretary Peter Hain has said it's the only feasible future, Taoiseach Bertie Ahern believes the "opportunities are boundless" and the SDLP have been pushing their "North-South makes sense" campaign, but are words from the two governments being matched by actions and what about the unionist parties- what have they to say about the all-island approach? This week ROBBIE SMYTH looks at what is and isn't happening on the all-Ireland economy front.
We must have a democratically run all Ireland economy. Why? because in a world that is increasingly integrating through trade, through the international firms that operate and compete across the globe, through international groupings like the EU, the WTO and the IMF whose powers and influence far outmatch any one nation state, the island can best protect its common interests and promote its future welfare by tackling this joined up international economy as one entity.
Internally on the island, as administrations North and South gear up for a period of sustained infrastructural development with a spending budget of over €90 billion, the need to co-ordinate this spending on an island basis is desirable even in the context of efficiency arguments alone.
Improved business ties and increased cross border trading can enrich the firms involved but it can also create employment and keep more jobs within the whole Irish economy. Then there is the context of why do we have two currencies? two tax regimes? two education systems? and a lot of duplication when it comes to strategies for economic development such as competition between the development agencies.
Finally there is the growing problem of uneven economic development on the island where rural Ireland particularly the West and North West has been bypassed in favour of investing resources and opportunities in the east coast and major urban centres. In the Six Counties this has been part of a policy of discrimination against nationalists, while in the 26 Counties the plight of the west is just one of many examples of the ineptitude and ignorance of successive governments.
It is now nearly 15 years since George Quigley, current chairperson of Bombardier Shorts, and then Ulster Bank chair articulated what republicans had always known. Partition was a disaster for the Irish economy whether you were sitting in Belfast or Dublin, in Coleraine or Cork, so what can be done now?
Infrastructure and transport
The coalition government in the 26 Counties is planning a €75 billion infrastructural development programme, while the Northern Ireland Office has announced plans for a similar €16 billion spend in the Six Counties. This is a massive investment and needs guiding principles. The first is one of efficiency: infrastructure must be planned on an island wide basis, the second is that for too long infrastructural developments have ignored rural Ireland particularly the North West. Thirdly there is a pressing need for a democratic input into how this €90 billion is being spent and this has been entirely absent from infrastructural development programmes north and south.
Transport has suffered from the twin problems of rural neglect and the building of two separate networks. Though there is buy-in to the idea of a linked up road and rail network, tangible commitments are few.
Not addressed is the airport issue, current strategy in the 26 Counties is to view each airport on its own merits, when we need to be developing an island wide strategy, and a national air authority that includes all airports and addresses the need to ensure that Ireland keeps its status as an international hub while also developing a regional airport strategy.
Communications
Disparities in telecommunications infrastructure on the island are huge with the Six Counties having 100% access to broadband services with a 10 Gigabytes a second fibre optic backbone. Eircom are claiming 85% broadband accessibility in the 26 Counties. Their figures give a false measure as neither Donegal, Cavan, Monaghan, substantial parts of Leitrim, West Galway and Mayo, or Kerry and West Cork have access to a 10 gigabytes broadband service. Many rural communities hav no access to broadband at all.
We need an island wide phone grid, publicly owned like the road network and the electricity grid.
The ending by O2 and Vodafone of roaming charges for mobile users on the island is a very small first step. The cost of cross border calls needs to be reformed with an end to Six County mobile users being billed as international calls when rung from the 26 Counties. Business and households need an island phone network and a single regulator, not charging systems profiteering on customers.
The need for an all island electricity network that was nuclear free and committed to renewable energy was agreed by an all-party committee on Enterprise Trade and Investment in the last Assembly, we need to make this a reality.
The Bill proposed last February by Angela Smith for a single wholesale electricity market is a small step but who is considering the customer. There is also an opportunity for positive east west collaboration as Ireland and Britain share between the best possible locations for wind and wave power generation in the world yet there is as yet no joint action to develop this market. Again a single regulator is needed now.
Currency and tax
In an ideal world we could have an independent island currency with the autonomy in monetary policy it brings. In the meantime we have the Euro, which benefits not just north south trade but European markets too.
We need tax harmonisation, such as a single VAT system and abolishing excise would be a major simplification for businesses trading on the island with taxes that are fair on workers, encourage small business, promote R&D and good business practice especially for the environment and worker development. We don't need tax cuts for big business.
So we get the single currency and tax regime and joined up infrastructure, which leaves us with the same old uncompetitive banking and retail sectors. The banking sector north and south is under investigation for its lack of real competition.
Similarly the retail sector needs much more effective regulation to stop cartels of three or four firms dominating the sector. All Ireland regulators answerable to the two assemblies with real powers are the only way to tackle these issues in the short to medium term.
The one political grouping not signing up publicly for an all-Ireland economy are the Ulster and Democratic Unionist Parties. At a push the two parties countenance the idea of North South co-operation.
UUP MLA Michael McGimpsey attacked Peter Hain for his comments supporting an island economy. He described Hain's comments as "a cavalier approach", a stab in the back and "green political correctness".
However a visit the DUP and UUP websites shows them raising the need to develop infrastructure on roads and public transport. The DUP site highlights in particular the need to tackle bank charges and high electricity costs, what better way to tackle all of these issues than in a democratic all Ireland context.