18 May 2006 Edition
Ballymena ethos fuels sectarianism
BY LAURA FRIEL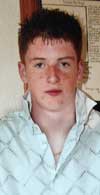 McIlveen murder: DUP council leader's sectarian outburst
Over 10,000 Catholics live within Ballymena, one fifth of the town's population but any kind of civic profile is deemed "provocative" in this DUP stronghold. "The ethos isn't simply predominantly unionist but exclusively unionist," says Sinn Féin North Antrim MLA Philip McGuigan.
Public spaces and civic buildings are festooned with unionist symbols inside and never far from unionist murals and flags outside. Murals of King Billy celebrate historical victory over Catholic King James, while unionist paramilitary paintings provide a contemporary focus for this cult of sectarian supremacism.
"The DUP-dominated borough council insists on flying the union flag 365 days a year. Behind the mayor's chair in the council's debating chamber is a portrait of the British Queen, draped with both the Union and 'Ulster' flags," says McGuigan.
Within the council chamber nationalist representatives are treated with open hostility and noisy contempt. Any attempt by the sole Sinn Féin councillor, Monica Digney, to address the floor is greeted with derision. "When Monica speaks unionist councillors drum their fists on the table to drown out her contribution," says McGuigan. The two SDLP councillors are treated only marginally better. "It's within this context that within the council chambers last month Monica was threatened by a member of the public," says McGuigan.
Ongoing sectarian intimidation has effectively closed off swathes of the town centre to Catholic residents. To wear a GAA shirt is to court trouble, to use an Irish name or a name deemed more popular amongst Catholics is to risk attracting hostility.
A mother whose daughter was repeatedly subjected to sectarian abuse and attack to and from school was advised to encourage her child to "keep her head down" and her "eyes averted" as if merely meeting someone's gaze while wearing a Catholic school uniform was provocative.
"Catholics in Ballymena aren't simply treated like second-class citizens, it's much worse than that, they're non citizens. Their civic presence cannot be acknowledged let alone respected or celebrated. In Ballymena there are those who believe Catholics should be neither seen nor heard," says McGuigan.
Last week a 15-year-old Catholic teenager, Michael McIlveen was savagely beaten and kicked to death by a sectarian gang who took turns to jump on the schoolboy's head. The killing was the culmination of months of sectarian attacks including attacks on Catholic churches, schools and homes.
"It's simply not good enough for the DUP to condemn the murder of Michael McIlveen while refusing to acknowledge the context within which the killing took place," says McGuigan.
"It's the kind of context that allows, within days of this brutal sectarian killing, DUP council leader Roy Gillespie to publicly consign the teenage victim to eternal damnation," says McGuigan.
Michael McIlveen would not go to heaven, Gillespie told the media, because he was a Catholic. "The Pope is the Antichrist and is the head of the Catholic Church which is not a true church or faith," said Gillespie. If Catholics did not repent before they died they "will not get into heaven", he said.
"As a Catholic Michael McIlveen won't get into heaven unless he's been saved. If he did not repent before he died he will not get into heaven. Catholics are not acceptable in heaven," said Gillespie.
DUP leader Ian Paisley's initial response was to claim "republican provocation" in relation to the killing, citing a couple of Tricolours flying in the predominantly Catholic Dunclug estate and a proposed commemoration in the outlying Catholic village of Portglenone.
Earlier in the month DUP Councillor William Wilkinson demanded "official action" after a number of posters commemorating the 1981 Hunger strikers appeared in the village. Wilkinson demanded a multi-agency approach to tackle this "offensive and unacceptable" display. He later urged unionists to "register their disgust".
"Fundamentalist religious notions of sectarian exclusion which view Catholics as unacceptable, even in the eyes of God, and extremist political notions that identify nationalists as the enemy within and republicans as the political equivalence to the Anti Christ, create a context within which attacks on Catholics and their property are inevitable," says McGuigan.
The Sinn Féin MLA cites unionist intransigence during the peace process as a significant factor. "It's a failure of vision and leadership. Intransigence within political unionism is condemning unionist communities to the discredited strategies of the past," says McGuigan.
In Ballymena, the siege mentality of the DUP has swelled the ranks of unionist paramilitaries. The UDA has gone from strength to strength in the town recruiting young people into its ranks and deploying them at the cutting edge of their sectarian campaign of violent intimidation.
"In recent months gangs of loyalists have been roaming the streets, on foot and in cars, armed with baseball bats and knives, on the prowl for potential victims," says McGuigan.
Three weeks ago 18-year-old Barry McGill was trapped when an armed gang pulled up beside him in a car. They held him down while attempting to carve a union jack on his stomach with a knife.
Two weeks ago 20-year-old Kirk McCaughren was stabbed while shopping in the town centre on a Saturday afternoon. He suffered a collapsed lung from the wound and narrowly escaped with his life.
Last week Michael McIlveen died after a brutal beating by a gang that chased the 15-year-old for over a mile before cornering him in a car park.
Yet despite the fact that young Catholics have become the UDA's primary target, they have pointedly refused to become involved in the kind of reciprocal, tit-for-tat response so beloved of the media.
Significantly in the two nationalist housing estates in the north of the town, the only place in Ballymena where the politics of the DUP and the violence of the UDA don't hold sway, young Catholics and Protestants openly mix.
Recent footage at the scene of the McIlveen killing and outside his family's home have shown young people celebrating their cultural differences by wearing Celtic and Ranger football shirts but in solidarity with each other. Some of the Rangers jerseys were emblazoned with "Mickey Bo" as a tribute to the dead boy.
"It's time the DUP faced up to its responsibilities and started to provide the kind of political leadership within unionism that allows us all to move forward," said McGuigan.