18 May 2006 Edition
Community solidarity and action can change things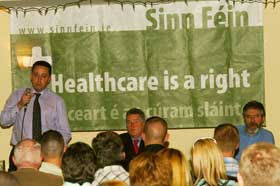 Dublin West: Local communities resilient and taking initiatives
West Dublin has featured frequently in the news headlines in recent years, often for all the wrong reasons. This week An Phoblacht's ARAN FOLEY spoke to Sinn Féin Fingal County Councillor Felix Gallagher about the issues in areas such as Mulhuddart and Blanchardstown and the real story behind community life there.
In relation to the issues of anti-social behaviour and criminality with which working-class areas in West Dublin have often been associated in the media, Felix Gallagher emphasised that there was a small minority of people involved in such activity. "These people make life difficult for the vast majority of people in the area and although they would seek to intimidate people, there are still people in the community prepared to stick their head up over the parapet and stand up to them.
"On a community basis, funding has been granted from the emerging needs fund of the National Drugs Strategy to set up a community policing forum in the area similar to that in inner city Dublin. We are now advertising for the co-ordinator and I think this has the potential to have a positive impact on this community", Gallagher said.
"Another positive development is that we have set up a confidential telephone number- Dial to Stop Drug Dealing. I'm actually the chair of the group that set it up. It's been tried in Finglas and Cabra but the number used there was the Garda confidential line. We are going to leaflet 30,000 houses in Dublin 15, engage with youth groups and schools and every fast food outlet will include a leaflet with delivery. It's a six week pilot programme and I am hopeful it can make a difference. I think using a non-Garda number can be effective. We're actually using a call centre in England to take the calls so there's no way people can be identified", he said.
Another issue here is under resourcing of the Garda. To give an example he pointed out that Limerick City, roughly the same size as Blanchardsown and with many similar social problems, has 482 Gardaí to Blanchardstown's 155. This under-resourcing has led to tension between the local community and law enforcement as response times are negligible and this undermined confidence. A recent survey showed that upwards of 40% of people in the area had lost confidence in the Gardaí and Gallagher believes this is largely as a result of failure to respond. Putting all of this into context Gallagher said that on any given Saturday night there were just two Garda cars for the 100,000 people in the area of Dublin 15. Another problem is that Dublin 15 is the only area of Dublin without a probation office. An office was identified three years ago but was opposed by all the establishment parties, particularly Labour and Fine Gael. Thankfully our lobbying has now been succesful and a site has now been identified.
The other side to all of this is the council. "The estate management department was the only department to take a budget cut this year. I was the only person to query this and the answer I got back was very unsatisfactory- something to the effect that different areas of its responsibility had been taken up by other departments."
Gallagher went on to point out the lack of joined up thinking. If a joyrider burns out a car, the Estates Management Department are not allowed to remove it. It's up to the Parks Department and of course they don't have the staff or the resources and the burnt out wreck stays there. This leads to another problem where young children are attracted to the wreck with all the attendant dangers.
Gallagher believes a multi-agency response is needed: "A motion I put forward on the council to this end was defeated but I am beginning to see evidence on the ground that this is in fact starting to happen. I will continue to push for this. It's important not just at the end of the line, ie anti social behaviour and crime, but earlier when intervention can be targeted by relevant agencies stopping someone going down that road in the first place. "
This is the key to a lot of problems in this area. Gallagher says upwards of 50% of people on the social housing list were 23 or under, in large parts of the constiuency.
The complete lack of social planning is a huge factor. Over the last 30 years, estate after estate was thrown up with absolutely no resources. "We had the brown envelope culture of the past but with that supposedly gone we still have the most appalling stupidity in planning. Even in the last ten years there have been estates going up without a community centre, without schools or shops or indeed any of the other facilities we would associate with a community. In relation to the schools this means that the local ones available are over-subscribed and parents end up having to put their child in a school that can be 20 or 30 miles away, so there needs to be much more joined up thinking between the planners and the likes of the Department of Education for example. This is relevant in all issues- we have no Dart or Luas and our bus service is inadequate", he said.
Identifying his priorities for the area Gallagher said sorting out the issue of community policing, with real community participation and accountability, was an urgent issue. Also the provision of resources such as football pitches, clubhouses and community centres were essential if there was going to be a permanent sense of community built up.
"There are positive developments going on in this area. These communities have not being lying down and there have been successes in forwarding their agendas." An example of this was the promised Primary Health Care Centre for Mulhuddart. For 30 years they have been without a GP, a dentist or even a post office. If delivered this centre will be a huge boon to the area.
"Basically the establishment had abandoned these people. I don't think it is an accident that Sinn Féin's increasing popularity coincides with a bit more of a willingness to deal with these issues. In the local elections before last there was a 20% turn out in Mulhuddart and 21% in Corduff. In the last local elections, the one where Sinn Féin topped the poll, that had risen to 50%. Parties such as Labour and Fianna Fáil who would never even have leafleted these areas are now trying to establish a token presence. So at least we're making them do a bit of work although I do think people will see through that", Gallagher said.
Local communities are very resilient and not afraid of taking the initiative. Corduff Counselling Services was set up on a voluntary basis in the 1980s to help families deal with issues such as depression, suicide and the effects of drug deaths. Since then it has become a prime model for the Health Services Executive (HSE). It has been expanded to cover all of Dublin 15 and is being used as a model for the introduction of similar schemes in places likes Finglas.
Above all Felix Gallagher belives that: "Communities often have the answers to resolve these issues, if they are asked and backed-up with resources. Community solidarity and action can change things."