4 May 2006 Edition
An Fhirinne launch website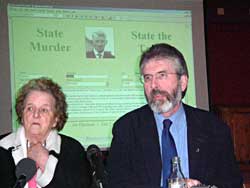 An Fhirinne, the group campaigning to highlight collusion between the British crown forces and unionist paramilitaries, launched a new website listing details of over 1,000 people killed by pro-British death squads on Tuesday, 2 May 2006.
The group however, is appealing to the relatives of many more people killed as a result of collusion, to supply them with information about their loved ones so they can update the information on the website.
Speaking at the press launch the Sinn Féin President Gerry Adams commended An Fhirinne for the work it has carried out over the four years of it's existence.
Eileen Fox, a sister of Seamus Ludlow killed by unionist paramilitaries on 1 May 1976, also attended the launch.
Among the gang involved in the Ludlow killing were at least two members of the notoriously sectarian UDR.
Adams also stressed that the work that An Fhirinne had carried out over the years exposed the British fostered myth that collusion only involved, "some bad apples".
"Collusion was a policy that went to the heart of the British establishment", said Adams.