20 April 2006 Edition
Assembly restoration: Latest announcement greeted with caution
BY Aran Foley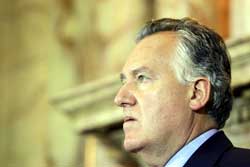 Only a functioning Executive acceptable
The announcement at Westminster this week by Six County direct ruler Peter Hain that the British government is to introduce emergency legislation to recall the the North's Assembly has been treated with caution.
Reacting to the announcement, Sinn Féin Party Chairperson Mitchel McLaughlin said it was up to Hain, Taoiseach Bertie Ahern and British Prime Minister Tony Blair to ensure the formation of a power sharing Executive as set out in the Good Friday Agreement. "Sinn Féin's sole intention for 15 May is the election of a fully functional Executive and Assembly. We don't want a half-way house or a shadow assembly. Our position is clear", he said.
Sinn Féin Newry/Armagh MP Conor Murphy said the establishment of an Executive and All-Ireland Ministerial Council was top of the priority list for Sinn Féin. "That is our only interest in the immediate time ahead", he said.
In his 18 May address to Westminster Hain said both Governments were committed to facilitating dialogue in "whatever forum was required" which has prompted fears that the DUP will use such vagueness to attempt to renegotiate the Agreement.
Claiming it was time for the parties to close a "chapter of mistrust" Hain said the Six Counties was in danger of being left behind politically and economically. Failure to reach agreement would lead to the further development of North/South co-operation and structures which would, he said, be in line with the Good Friday Agreement.
The comments were sufficiently ambiguous as to shield the British Government's real intentions but nationalists and republicans are determined that renogotiation or dilution of the Agreement is not acceptable.