20 April 2006 Edition
Fógraí bháis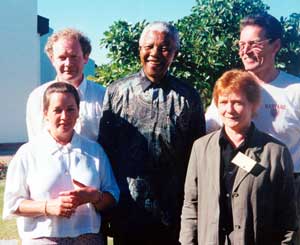 Siobhán O'Hanlon
Over 1,000 people attended the funeral of Siobhán O'Hanlon in Belfast last Friday, the large attendance a testimony to the respect in which she was held.
Sinn Féin President Gerry Adams gave the graveside oration, extending sympathy to Siobhán's family and friends, especially to Pat and Cormac and her mother Tess. He thanked the nurses, doctors and consultants involved in Siobhán's treatment over recent years.
We carry below an edited version of the oration.
"Maybe it isn't the length of our lives - it's what we do with our lives that counts. It's the difference we make to the lives of others that counts. Siobhán packed three or four different lives into one. There was her life as a child and a young nationalist from a strong republican family - growing up in north Belfast. There was her life in the IRA. There was her life as a political prisoner. Her life as a Sinn Féin activist. Her life as a mother and a wife. And for the last four years or so her life in all these dimensions as she fought the cancer."
"For the last 17 years or so I am very proud to say that I was part of Siobhán's life and she was part of mine. She headed up our office here in West Belfast. She was efficient and she was effective. Her involvement in west Belfast was pivotal. She became a key figure in Féile an Phobail and with others turned it into one of the largest people's festival on these islands.
"When I was in meetings with John Hume and eventually lines of contact were opened with the Irish and British governments, Siobhán was one of the very small group of people to play a part in that project. She was totally trustworthy. Some have described her as a notetaker. She was more than that.
"When Martin McGuinness laid the first Sinn Féin delegation into Parliament Buildings to publicly meet British government representatives for the first time in 20 years Siobhán was there. When we were locked out of the negotiations in June '96 and a small delegation entered Castle Buildings to be told why - Siobhán was there. When we held our first meeting with Tony Blair in October '97. There was Siobhán. When we made the first Irish republican visit to Downing Street to meet the British Prime Minister in December '97 Siobhán was there. And when we spent 8 long months in Castle Buildings negotiating the Good Friday Agreement Siobhán was one of the stalwarts who ran our operation and made it the envy of our political opponents.
"It would take too long to tell all of the twists and turns of the process since then but right up until a very short time ago, Siobhán was heavily involved in this work. She had her own unique way of working. Someone said to me yesterday Siobhán didn't suffer fools gladly. Many of us know that to be true. She was very direct. If she reared up on you, you knew you were reared up on. But it rarely lasted.
"She also dealt with many individual cases of people who came to us looking for help. I'm minded of the little boy from Ballymurphy who was very seriously ill. His parents were beside themselves trying to get him treatment. "Let's send him to Cuba" Siobhán said, and we did. Or families who were bereaved through suicide, victims of child abuse who needed counselling, young people who were self harming. People who fell through the cracks in the health services.
"There are numerous other cases, including many from unionist people who contact our office and who know her only as the voice on the telephone who gets things done. And it wasn't just those who fell foul of the system or were disadvantaged. People with grievances against republicans also had their cases championed. There are children here from Belarus. Siobhán's battle with the British Home Office and the Belarus government to have them stay here with Irish families is the stuff of legend.
"She was also responsible for our South African desk. She loved South Africa. In 2001, on the 20th anniversary of the hunger strikes she planned and organised a visit to Robben Island where Mandela and the leaders of the ANC had been imprisoned for decades. It is a world heritage site and no other monuments are supposed to be there.
"Siobhán cut through the red tape and she, Pat and Cormac, Richard McAuley and I travelled to Robben island and I unveiled a memorial to the hunger strikers in the prison yard where Mandela exercised for almost 30 years. We met President Mandela and presented him with a St Gaul's jersey. Siobhán and I believed that it was from that point that St. Gaul's luck changed. We're claiming credit for the club's success in recent years.
"In October 2002 she was diagnosed with breast cancer. And for the next three and a half years she battled it every single day. Siobhán was a very private person but in September of the following year she planned and organised a conference at BIFHE on the Whiterock Road. October was Breast Cancer awareness month and Siobhán lobbied Action Cancer to bring their mobile screening units into west Belfast. The BIFHE conference was a way of bringing community activists and others together to talk about this issue and raise awareness, as well as draw attention to the mobile screening units.
"So focused was Siobhán on this issue that for once she set aside her natural reticence to speak publicly and addressed the audience about her experience. It was one of the most moving contributions I have ever hard. I have no shame in saying that I cried at the end of it. It was typical Siobhán. Honest and frank.
At the end of his oration, the Sinn Féin President read from poetry by WB Yeats which Siobhán's friend Rita O'Hare felt summed up her life.
For all that is done and said.
We know their dream; enough
To know they dreamed and are dead;
And what if excess of love
Bewildered them till they died?
I write it out in a verse -
MacDonagh and MacBride
And Connolly and Pearse
Now and in time to be,
Wherever green is worn,
Are changed, changed utterly:
A terrible beauty is born."
The ceremony ended with Francis Black singing The Foggy Dew.