13 April 2006 Edition
Ógra disrupt 1916 auction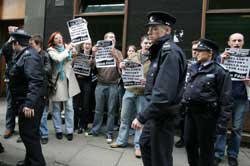 On Wednesday memebers of Ógra Shinn Féin disrupted the controversial auctioning of important Irish historical artefacts at Adams auctioneers in Dublin. Ógra members entered the auction and distributed leaflets opposing the selling of important historical documents on the open market. They were then evicted from the auction and two people were arrested. The protest continued outside.
Ógra spokesperson Daithí Ó Riain said: "Today's protest was to draw attention to the government's failure to intervene to secure historic documents. The government should not allow such artefacts to be sold on the open market to wealthy individuals, either in Ireland or abroad.
"We believe that these important historical items should be in the ownership of the Irish people to be held and displayed in the name of, and for the educational and cultural benefit of, the Irish people.
"In the coming weeks and months we will be continuing with this campaign".