13 April 2006 Edition
Féile calls for West Belfast backing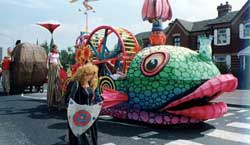 Community groups in West Belfast are being urged to make this year's Féile an Phobail a success despite recent job losses, due to under funding by the Department of Social Development (DSD).
The refusal of DSD to match last year's funding has resulted in the loss of five key posts within the organisation and has left Féile organisers with only minimum staff to plan August's events.
Over the next month Féile will be appealing for community groups and organisations who plan to host events to submit details to the Féile offices.
Féile Director Sean Paul O'Hare said that the huge volume of work involved in co-ordinating community groups used to be untaken by Féile's development worker, however this was one of the posts that was lost due the department's refusal to fund the festival.
"There is a greater onus on the community sector of West Belfast to help ensure the continued success of Féile because we must show the departments responsible for the cuts that we have a strong and vibrant community".
• An open day has been planned for Tuesday, 25 April at 1.00pm in Féile Office.