9 March 2006 Edition
Féile under threat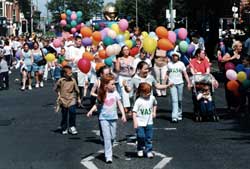 Féile an Phobail, the popular West Belfast community festival, has found itself under financial pressure due to new funding regulations introduced by British Direct Rule minister David Hanson.
Feile, which has established itself as the foremost community festival in Ireland and has gained international acclaim since it's inception in 1988, now finds itself starved of cash due to the funding regulations announced on 13 February.
David Hanson has set up the New Community Festivals Fund, administered by the Northern Ireland Events Company (NIEC), claiming it will increase the funding that is available for festivals.
However, Féile director Sean Paul O'Hare told An Phoblacht that the new community festival funding programme will have a negative impact on Féile an Phobail and will cause a significant decrease in events during the August Féile, with an expected impact also on spring events in 2007.
"Féile an Phobail had been receiving yearly funding from the Department of Culture and Arts (DCAL) and the Department of Social Development ( DSD) of around £145,000 over the past three years. These funds paid for Féile's summer programme and now they have been withdrawn and replaced with funding proposals which are not guaranteed, as they now have to compete with other festivals in the North.
"The pot of money that has been made available means this new arrangement will stifle any of our long term plans and limit our capacity to meet the needs of the people of West Belfast, Belfast as a city and tourists from near and far".
Adding his voice to the criticism, West Belfast MP and Sinn Féin President Gerry Adams said Hanson's plans would have a damaging effect on Féile an Phobail, as it will result in the loss of a number of key positions within the Féile.
"The Stormont Minister's decision to refuse to support key positions essential for this August's festival will have an adverse effect on the festival's programme.
How can Hanson claim this new arrangement will improve the capacity of community festivals and make them more sustainable, whilst at the same time incapacitating Féile an Phobail, seriously jeopardising its sustainability and viability?"
Adams added that he has been in constant contact with Hanson for several months and said that if the festival is to be properly planned and organised this year, it needs to retain those jobs it is about to lose