9 March 2006 Edition
Dublin murder: Call for NUJ to investigate tabloid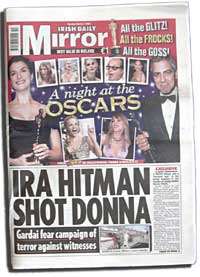 Mirror's lies "highly insensitive"
Sinn Féin Dublin City Councillors, Dessie Ellis and Larry O'Toole extended condolences to the family and friends of Dublin woman Donna Cleary, brutally murdered in the city last Saturday night. They described as absolutely "malicious" and "highly insensitive" a front page story in Tuesday morning's edition of the so-called 'Irish' Daily Mirror, which ludicrously attempted to blame republicans for the shooting dead of Donna Cleary in the northside suburb of Coolock.
"The speedy response of the Gardaí to the crime and the fact that a number of arrests have already been made, has to be welcomed and we both hope that all those responsible are quickly brought to justice, not withstanding that one of the chief suspects has already died", said the two councillors who reopresent the areas of Coolock and Finglas, in a joint statement.
"However, we would like to take issue with today's outrageous headline and subsequent story in the Irish edition of the British tabloid Daily Mirror.
The highly insensitive manner, in which they have covered this story, and their grotesque attempts to point the finger of blame away from those responsible, can only have added to the misery and pain the Cleary family must be suffering at the moment", said O'Toole and Ellis.
"If this is what now passes for journalism in this country, then it is time that the National Union of Journalists took a serious look at the issue, because it is clear from what is printed in the Daily Mirror today that it is based on nothing more than the twisted imagination of the journalist who penned it and the news editor who allowed its publication.
"While we have no reason to believe that anything untoward led to the death of Dwane Foster in custody, it is crucial that any investigation into his death be fully independent and transparent."