9 March 2006 Edition
Housing: Government policy in tatters
BY Aran Foley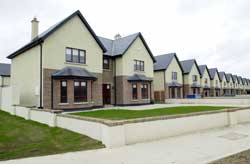 Social housing scandal
Social housing statistics, released this week by the Department of the Environment, bear out Sinn Féin's opposition to the 2002 amendment to Part Five of the Housing and Development act. This allows builders to buy their way out of the 20% social housing quota under the original legislation. The result has been the complete undermining of affordable housing provision and an exacerbation of the housing crisis. Of the 71,808 houses built in 2004 a paltry 591 were allocated as affordable housing.
In the Dáil this week Sinn Féin's leader Caoimhghín Ó Caoláin TD slammed the government on the issue, saying they demonstrated the abject failure of its social and affordable housing policy. "These figures confirm that this Government has facilitated developers to bribe their way out of providing social housing under Part Five of the Planning and Development Act", he said.
Sinn Féin Housing Spokesperson Arthur Morgan said: "When the Government introduced legislation in 2002 to amend the Planning and Development Act 2000, Sinn Féin opposed the legislation and warned that developers would chose the option of buying their way out of the delivery of social and affordable housing. Such a get out clause should never have been included. It has detrimentally hindered the ability of the legislation to provide much needed social housing. The 2002 Amendment Act should now be repealed. Councils must be given the power to insist that developers hand over actual housing units."