16 February 2006 Edition
Remembering Frank Stagg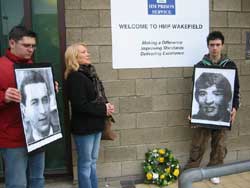 Hunger Strikes: Year of remembrance
Frank Stagg anniversary begins series of events
Last weekend marked the 30th anniversary of the death on hunger strike of republican prisoner of war Frank Stagg in England's Wakefield Prison.
A series of events took place at venues across Ireland and at Wakefield Prison itself to mark this important anniversary.
On Saturday republicans assembled outside Wakefield Prison in England, where Frank Stagg died, for a short commemoration addressed by former republican POW Roseanna Browne.
On Sunday, former hunger striker and republican prisoner Gerry Kelly addressed a commemoration at Frank Stagg's graveside in Ballina, County Mayo.
Also on Sunday in Belfast a mural on Dunville Street marking the anniversary was Frank Stagg's death and the 25th Anniversary of the 1981 Hunger Strike was be unveiled by Sinn Féin Councillor and former political prisoner Paul Butler.
The following day in Belfast's Europa Hotel, Sinn Féin President Gerry Adams joined other Sinn Fein leaders along with former Hunger Strikers from Long Kesh, Armagh and English Jails to launch a programme of events to commemorate the 25th Anniversary of the 1981 Hunger Strike when ten republicans prisoners lost their lives. The event also played host to a Hunger Strike exhibition.
Speaking at the weekend Brendan 'Bik' McFarlane, the IRA Officer Commanding in Long Kesh during the 1981 Hunger Strike said:
"This year marks the 25th anniversary of the 1981 Hunger Strike when ten of our comrades died confronting British attempts to criminalise us and the entire republican struggle. We will also in the coming year remember with pride Frank Stagg and Michael Gaughan who died on Hunger Strike in the 1970s in British prisons.
"The National Hunger Strike Commemoration Committee has put together a series of events, commemorations and debates throughout the island and beyond as we remember the events of 1981 and the British Government policy which led to them.
"Republicans are rightly proud of the sacrifices made in the past and in particular in the prison struggle. We are also looking to the future and are as determined now as we were 25 years ago to press ahead in the coming years to deliver on our republican objectives and goals of Irish unity and independence."
Mayo honours the memory of Frank Stagg
BY NOEL CAMPBELL
"An ordinary person, who saw injustice and decided not to remain silent but to take action," is how Sinn Féin MLA Gerry Kelly described IRA Volunteer Frank Stagg last weekend in Mayo on the occasion of the 30th anniversary of Stagg's death on hunger strike.
At the and of 1975 Frank Stagg had embarked on his fourth and final hunger strike in his bid to be repatriated to Ireland. After 62 days refusing food, Frank died far away from his Mayo home in England's Wakefield Prison on 12 February 1976. The hijacking of the republican soldier's remains by members of the Gardaí at the request of the Fine Gael/Labour coalition of the day has been a source of anger for republicans ever since.
It was with a great sense of unbroken commitment to the very same objectives that Frank fought and died for that up to 800 Irish republicans, marched to Leigue Cemetery last Sunday.
The march and commemoration ceremony formed part of a weekend of events in which republicans from as far apart as North Antrim, Clonakilty, Kilkenny, Dublin and Crossmaglen joined comrades from Mayo in a weekend of events to commemorate the life of an ordinary man who was prepared to go to extraordinary lengths and even to give his life so that British injustice in his country would become a thing of the past.
Addressing a Sinn Féin function on the Saturday night, former POW and Hunger Striker Raymond McCartney spoke of the proud line of Mayo republicans of which Frank Stagg was a part. He spoke of the contribution made by Stagg's comrade Michael Gaughan who was murdered in Parkhurst Prison through the brutal practice force feeding while on hunger strike and of Seán McNeela who also died on hunger strike in the 1940s. McCartney who himself spent 53 days without food during the first Hunger Strike in 1980, told the crowd of 200 people that to this day Mayo plays its part in the struggle for Irish freedom. "The role played by Mayo today in fighting injustice is still very evident in the titanic campaign waged by five Mayo men against an Irish Government backed multinational," said McCartney.
The Derry man's first hand description of life on hunger strike brought it painfully home to his audience exactly how much Frank Stagg had suffered during his several hunger strikes. Members of the Stagg family were guests at the function. George Stagg, a brother of Frank's, talked of Frank's fervour for the republican cause and restated his family's support for that cause.
Mayo Sinn Féin general election candidate Councillor Gerry Murray read out a letter of solidarity from Party President Gerry Adams who had been set to attend the weekend's events. Murray continued, "The mindset that existed in southern politics at the time of Frank Stagg's death, a mindset that sustained the British presence in Ireland, still exists in Irish politics today. A responsibility is now placed in the hands of Sinn Féin members who are now faced with tackling those elements that are opposed to peace and equality in Ireland." Murray asked all in attendance to re-dedicate themselves to achieving republican goals by helping Sinn Féin candidates in the upcoming general election.
The main speaker at Sunday's well-attended commemoration in Leigue Cemetery, Ballina was Sinn Féin MLA Gerry Kelly. Kelly, a former republican POW and spent a gruelling time on hunger strike at the same time as Frank Stagg in the 1970s. "I have always thought it was harder to be a republican in the South than in the North and that it was even more difficult to be a republican in England during the 1970s," said Kelly.
"Frank Stagg had to face the personal difficulties that all that brought him. Frank was an ordinary person like you here today who saw injustice and decided to take action. He could have ignored the injustice he saw in his country and lived a normal life. He could have been standing among you today but his desire for peace and justice in Ireland meant he committed himself fully to the republican cause. The efforts by the Fine Gael/Labour Government to disrupt Stagg's funeral showed that Frank's message was so powerful; he was feared even in death."
The North Belfast MLA detailed the inhumane conditions Irish republicans like Stagg found themselves enduring in English jails, the force feedings, the dispersal policy followed by prison wardens and time spent by many republicans in solitary confinement. "Yet with all the hardship of prison in Ireland and England, Irish men and women were still prepared to risk arrest in pursuit of justice in Ireland," said Kelly.
As the Hunger Strikers of the 1970s and 1981 passed into the history books Kelly said: "It is essential that our young people never forget those very difficult times. It is right that we remember through commemorations such as this and through the events that are set to mark the 25th anniversary of the 1981 Hunger Strikes."
Thirty years after his death, the life of Frank Stagg from the small Mayo village of Hollymount has shown republicans and our enemies that through selfless actions even in the face of the most hostile state aggression that the Irish republican cause will not be broken as long as there remains Irish republicans.
Hunger Strikes were "watershed" in Irish history - Gerry Adams
Sinn Féin President Gerry Adams launched a year-long programme of events to commemorate the 25th anniversary of the 1981 H-Block Hunger Strike at Belfast's Europa Hotel.
Adams was joined by both family members of the Hunger Strikers and former political prisoners to unveil a vast range of commemorative events for the course of the coming year. These will include debates, marches, exhibitions and even tours of Long Kesh itself.
The programme launch was also addressed by the brother of IRA Hunger Striker Francis Hughes and by former political prisoners Martina Anderson and Seando Moore.
"On a visit to my brother 25 years ago, he informed me that he might be a candidate for Hunger Strike," recounted Oliver Hughes. "Two weeks later the announcement was made that Bobby Sands would begin the Hunger Strike and my brother would follow."
"When I went home to my elderly parents to deliver such a message there was a lot of sadness... and the emotion of that day is still very much within my heart today. My brother went on the Hunger Strike and 59 days later, he died.
"Today we launch the 25th anniversary celebrations, and I would ask all the committees involved to give it their very, very best to bring the memories of that tragic year to a young generation who have never known anything about the Hunger Strike other than what they have read."
Martina Anderson also recalled the events of that terrible year of 1981. "Through that dreadful summer of 1981 the Hunger Strikers died, and we went to their funerals one after the next - knowing that yet again another brave young Irish man had given his life to progress the struggle in the only way that lay open to him. Knowing as we did that they died needlessly as a result of the ruthless intransigence of the British Government and the Prime Minister at the time, Margaret Thatcher.
"We are wise to remember that. We are very wise to remember that. It would have cost so little to agree to the five demands, to have listened to world opinion which condemned the torture of Irish prisoners in British jails.
"There is no doubt that the best way to commemorate the Hunger Strike is to use these events to build upon the struggle for which they fought, to engage with the politics of justice that inspired and empowered both men and women in Ireland and abroad.
"I hope that in remembering the Hunger Strike across the many events we launch here today, we will also remember clearly the great idea they launched across the world through their deaths - that we are engaged in struggle for the empowerment of all of the people across the 32 Counties, to oppose the injustice that the Brits have imposed on us."
Addressing the launch Gerry Adams said that the prison protests of the late 1970s and 1980s and in particular the Hunger Strike of 1981 were "watershed moments in Irish history".
"The forthcoming year will provide an opportunity to reflect upon the ten men who died, the contribution they made, and the sacrifices made by their families during the summer of 1981. There is a huge debt of gratitude owed to the families of the Hunger Strikers, a huge debt which can never be repaid," he said.
"However these events must also be about more than looking back. They must also be about looking to the future, exploring how best to move our struggle forward in the coming years and how best to complete the job of delivering Irish unity and independence.
""My generation of Irish republicans will never forget those terrible months from March to October when ten men died in the H-Blocks of Long Kesh and over 50 others died on our streets, but in marking the 25th anniversary of the Hunger Strike we have an opportunity to celebrate their lives, remember their sacrifice, and re-dedicate ourselves to advancing the struggle.
"The commemorative calendar will also allow a new generation of Irish people who weren't even born in 1981 to learn about the time and participate in mapping out the future."
KEY DATES TO REMEMBER:
1st March, start of the Hunger Strike and issuing of the five demands.
5th May, Bobby Sands Memorial Lecture - Devenish, West Belfast
13th of August, National Rally In Belfast - A Generation Remembers
3rd October - 3pm, statement read by prisoners ending Hunger Strike.
Strabane Youth pay tribute to Stagg
Sunday also saw Strabane Ogra Shinn Féin unveil a mural in the town centre in memory of Frank Stagg.
Local Council Chairperson Brian McMahon, who attended the mural unveiling, commended the Ógra activists for their work on the mural.
Councillor McMahon went on to stress the importance of the work of Ogra Shinn Féin, and encouraged young people to get actively involved in the republican struggle and join the youth movement.
Seán Mac Giolla Easpig of Strabane Ógra said: "Frank Stagg is an inspiration to myself and my comrades, a brave man who faced injustice and oppression on a daily basis, and stood strong to defeat it. We as young people should always acknowledge the bravery and selflessness of our comrades who have gone before us."
Strabane H-Block Commemoration Committee and Ogra Shinn Féin have planned a series of events for the duration of 2006 to commemorate the Hunger Strikes.