9 February 2006 Edition
Never Going Away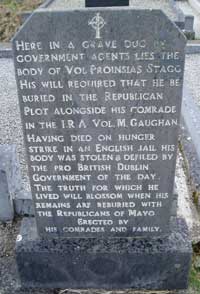 Frank Stagg 30th anniversary - Belfast memories of Mayo hunger striker's death
Below, in an article first published in 2002, Author, playwright and former An Phoblacht Editor DANNY MORRISON writes about his memories of the death of republican POW Frank Stagg in Wakefield Prison, which occurred 30 years ago this week.
I love St Valentine's Day. But with it comes sad memories, especially of the year 1976. In subsequent years there were other sad memories, such as hearing, just two days after the killing of Pat Finucane, about the assassination of Sinn Féin Councillor John Davey, with whom I had been interned.
I think it was in the early morning of 12 February 1976 that we heard about the death of Frank Stagg on hunger strike in an English jail. He and his comrade Michael Gaughan had been on hunger strike in 1974 demanding to be transferred to a prison in the North. Michael Gaughan died in June of that year and, unfortunately, the solidarity protest movement on the outside was nothing of the order of the protests that we witnessed in 1980 and 1981.
This had been Frank Stagg's fourth hunger strike and he died in Wakefield Prison, blind, weighing four stone after 62 days, his wife and mother at his bedside. There were some protests on the streets, but not many, some rioting and some IRA operations. I was standing at the corner of Brighton Street that night with a friend, Seando Moore, when we heard a muffled explosion from the direction of Iveagh. About half an hour later we learnt that a small bomb had exploded in a house in Nansen Street and that our friend and comrade, Seán 'Stu' Bailey, was seriously injured, along with several young people.
I knew young people there and it has just occurred to me that Stu himself was just 18. He had been in the IRA for over a year and had been very close to Paul Fox who had been killed on active service two months earlier. Stu had been shot and wounded by the Sticks in that disastrous feud of October 1975 and was still recovering. Days after the feud ended Stu, with his leg still in plaster from the gunshot wound, had gone to his brother-in-law's wedding where the majority of the guests were Sticks!
That night of the explosion I went around to tell his wife, Geraldine, that he had been seriously injured and taken to the Royal. On the mantelpiece was a Valentine's card from Geraldine and their young daughter, Seaneen, which Stu was never to see. Geraldine and, I think, Stu's mother, Mrs Bailey, rushed to the hospital where he died a few hours later. He was a very funny fellow with an infectious laugh and I can still see his spirit in his daughter. It is hard to believe that was 25 years ago. But all of us, from whatever walk or persuasion, carry around inside us these evocative reminiscences, with the images and voices of our dead friends asserting themselves, and not just on anniversaries.
Frank Stagg had made a will requesting that he be buried in the Republican Plot in Leigue Cemetery, Ballina, beside his comrade, Michael Gaughan. Before his remains were released, several other people lost their lives, including 17-year-old IRA Volunteer James O'Neill in North Belfast and 15-year-old Anthony Doherty on the Falls Road.
As Frank Stagg's body was being flown home, and as the aeroplane was approaching Dublin Airport, the Fine Gael/Labour Coalition Government ordered Aer Lingus to fly on to Shannon were the Special Branch seized the coffin. To this day I can still see Frank Stagg's mother standing at Dublin Airport, completely bewildered, but absolutely dignified. The government had split the family, with one son, Emmet, who is now a Labour TD, sanctioning the hijacking.
And so the Special Branch buried IRA Volunteer Frank Stagg and poured six feet of concrete on top of his grave to prevent republicans from re-interring his body alongside Michael Gaughan's. The following day, republicans gathered in Leigue Cemetery where they heard Joe Cahill make a promise to Frank Stagg. He said: "I pledge that we will assemble here again in the near future when we have taken your body from where it lies. Let there be no mistake about it, we will take it, Frank, and we will leave it resting side by side with your great comrade, Michael Gaughan."
For six months the Gardaí were stationed in the cemetery watching the grave but eventually they gave up and left. And when they did, the IRA disinterred Frank Stagg's remains and reburied them with Michael Gaughan, thus carrying out his last request.
When you consider all the state and loyalist violence, all the laws, all the sermons, all the editorials, all the censorship, that were used to stop republicans from being republicans and practising republicanism, what is left is mountain after mountain after mountain of failure, and thousands upon thousands upon thousands of republicans who haven't gone away and never will.