9 February 2006 Edition
Scars of the Blanket Protest remain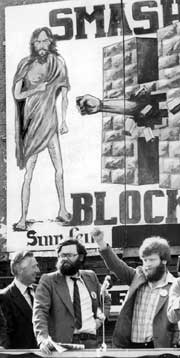 When Cúnamh, the Derry-based community mental health project, was discussing the possibility of carrying out research into the long-term psychological and physical effects of the Blanket Protest, something quite unexpected happened.
A former prisoner came to them, by co-incidence, and asked the organisation to undertake some sort of research on the issue. He told them that he was concerned for a number of his former comrades who, almost 30 years after the Blanket Protest, were still suffering the ill-effects of their experiences.
What transpired was the development of a self-help group for former prisoners, which provided researchers commissioned by Cúnamh with a core study group of 21 former prisoners for a pilot project into the impact of the protest on prisoners' lives. The results of that study, Blocks to the Future, were recently published.
The report's author, clinical psychologist Brandon Hamber, explains that of critical importance to Cúnamh was a desire to use the findings to help "break down the perception that ex-prisoners have no right to services and to challenge attempts to exclude political prisoners and their families from receiving adequate support".
Hamber acknowledges the limitations of the study, given that it used such a small cohort of subjects; 21 individuals out of an ex-Blanketmen population of between 300 to 400 -- and because it excludes any of the women former prisoners who also took part in the protest. He stresses that the problems experienced by those in the study do not necessarily affect every former prison.
On 15 September 1976 Kieran Nugent refused to put on a prison uniform. His decision set off a train of events which ended in the 1980 and 1981 Hunger Strikes and all that followed. The escalation of the Blanket Protest into the No Wash Protest and in to the Hunger Strikes is well-documented. Some of those interviewed spoke vividly about this. One prisoner recalled that, after a particularly brutal beating and in his cell: "I felt so lonely I thought I could never be happy again in my life."
What is less clear is how the experiences of prisoners and their methods of coping translated into life after prison. What was apparent however, was the difficulty some of the group had in speaking about their experiences and accompanying feelings. In some cases this inability to express feelings had a detrimental effect on family relationships. The experience and psychological demands of growing up under unionist and British oppression, of being part of the armed struggle, followed by years of rigorous self-control and of masking emotion, stayed with them long after release. One prisoner explained: "The Blocks made me really hard, I lost a lot of compassion. I find it impossible to cry. I couldn't even cry at my mother's funeral, you know my family was wondering what the fuck is wrong with you?"
Given the appalling conditions of the Blanket and No Wash protests — and the extreme youth of most of the former prisoners who participated in it — it is hardly surprising, therefore, that 25% of the group have experienced severe mental health problems, and a further 25% need mental health support — although the author cautions against extrapolating these figures and applying them to the entire ex-prisoner population.
In order to address the issues raised by the study, Hamber recommends that a broader research programme be implemented and, further that those who took part in the protests be encouraged to document their experiences. He also suggests that more formal support structures should be put in place for female former prisoners, families and children.
Crucially, he calls for political and policy changes to improve support services for former prisoners. There should, he says, be a process of "mainstreaming psychological support for ex-prisoners who were on the No Wash/Blanket Protest through the provision of accessible and appropriate community-based services".