2 February 2006 Edition
McBride in groundbreaking address to Derry audience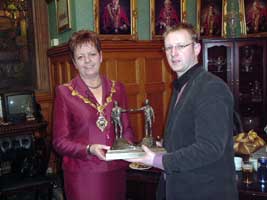 Bloody Sunday Memorial Lecture: Towards Justice
McBride in groundbreaking address to Derry audience
In a ground breaking departure last weekend Alan McBride, whose wife Sharon was killed in the 1993 Shankill bomb became the first person from the unionist community to deliver the annual Bloody Sunday Memorial Lecture in Derry's Guildhall.
The theme of this year's Bloody Sunday weekend was Towards Justice and in his "wee talk", — as he preferred to call it — McBride paid respect to the Bloody Sunday families and their 34-year search for justice.
As many as 300 people turned up to hear McBride. Among them were Sinn Féin's Chief Negotiator Martin McGuinness, the party's General Secretary Mitchel McLaughlin and Assembly member Raymond McCartney.
Former SDLP representative Ivan Cooper was also in the audience.
McBride began his remarks by thanking the organisers for inviting him to give the lecture but acknowledged that his willingness to accept the invitation was, "not well received in my own community", as many people thought the time was not right.
However, McBride felt the time was right and (decided he would, "put my head above the parapet".
McBride, who grew up in the loyalist Westland Estate in North Belfast, always seemed to have been willing to put his head above the parapet. He recounted how on the one hand he would have taken part in rioting with local nationalists after school but ended up going out with a Catholic.
He came under pressure from people from within his community and was told to, "get rid of her".
When recounting the events surrounding the Shankill bomb it was clear that McBride is still deeply affected by the loss of his wife, but has moved from feeling his, "unbearable anger", over his wife's killing and his need to confront republicans to a place where he feels it is better to talk to them.
One of the things that moved McBride was an encounter he had with a former republican POW at a conference in Edinburgh. This prisoner, acknowledging McBride's pain, told him, "what happened on the Shankill Road was wrong and I as an Irish republican am sorry".
"Those words moved me to a different place," said McBride, "that [encounter] was one of the most influential events of my life".
Concluding his, 'wee talk' McBride said he wanted to challenge republicans and called on them to, "build confidence in the unionist community".
He also called on the political parties to get the Good Friday Agreement back on track saying that he had invested a lot in the Peace Process and that he, "may have died were it not for his hope in the Peace Process".