2 February 2006 Edition
Parades Commission Judicial Review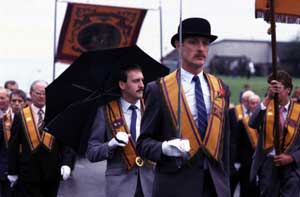 A nationalist resident from the Garvaghy Road in Portadown was granted leave to take a judicial review against the decisions made by the British Secretary of State in the Six Counties in making appointments to Parades Commission.
Papers seeking leave to review the Secretary of State's decision had been lodged at the High Court last Thursday.
Last Monday 30 January, after examining written legal arguments seeking a review, a judge notified legal representatives acting on behalf of the resident, that he was granting a full hearing of the case.
A date for the full hearing has now to be set by the High Court in Belfast.
A spokesperson for the Garvaghy Road Residents' Coalition said: "In the past, when leave was sought to take judicial reviews in relation to the Parades Commission, either by a resident of this area or by one from the Lower Ormeau Road, a full sitting of the High Court would usually decide whether to grant a review or not. While we are not seeking to pre-empt any outcome of the judicial review when it is held, it would appear that, at this stage, a High Court judge has decided, without a court hearing, there is indeed a case for the Secretary of State to answer."
Nationalist residents in the Garvaghy Road had publicly expressed concern over the make-up of the new Parades Commission which includes two members of the Orange Order, both of whom are members of Portadown District LOL, but does not include representation from anyone living in those communities directly effected by marches.