2 February 2006 Edition
The Irish health crisis - need for radical overhaul
BY JOANNE CORCORAN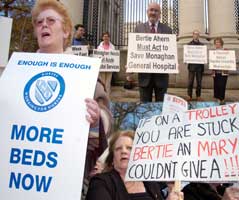 Policy Conference - Health in an Ireland of Equals
It shall be the duty of the Republic to take such measures as will safeguard the health of the people.
The Democratic Programme of the First Dáil Éireann, 1919.
A country in crisis. That was the message at last Saturday's health conference, organised by Sinn Féin and held in Dublin. The purpose of the conference was to discuss the party's draft all-Ireland health policy document: Healthcare in an Ireland of equals. Chair on the day, Mícheál Mac Donncha, asked Sinn Féin members to look at the document and give constructive criticism on it as well as contributions in the days following.
The party is taking the issue of health seriously in the run-up to the next elections. With a Progressive Democrat Minister intent on privatising the health service in the 26 Counties, and the British Government reluctant to invest, and not in the position to know what's best for the system in the North, the state of both healthcare systems has never been so precarious.
But as Caoimhghín Ó Caoláin pointed out, health is not just an election issue for Sinn Féin. The party sees it as an undeniable right and has always treated it as such. The Sinn Féin TD for Cavan/Monaghan — one of the worst affected regions for health care in the 26 Counties following the Government's decision to withdraw vital services from Monaghan General Hospital — pointed out that Sinn Féin is "not a newcomer to these issues and in the worst days of cutbacks in the early '80s and '90s Sinn Féin stood shoulder to shoulder with communities as they battled for the right to decent health services".
Saturday's conference saw presentations from Brigid Quirke, Vice-Chair of the Public Health Alliance and Dr Brian Dunn of the British Medical Association, which represents GPs in the Six Counties. Ó Caoláin and MLA John O'Dowd spoke for the party on health North and South.
The healthcare document is a work in progress and is due to be presented to the Ard Fheis at the end of February. It quotes from the World Health Organisation's guiding principles:
"Health is a state of complete physical, mental and social well-being and not merely the absence of disease or infirmity. The enjoyment of the highest attainable standard of health is one of the fundamental rights of every human being without distinction. Governments have a responsibility for the health of their peoples which can be fulfiled only by the provision of adequate health and social measures."
Ó Caoláin said the policy document is about presenting proposed long and short-term solutions to the health crisis. He set out Sinn Féin's guiding principles, which aim to:
• Enshrine the right to health and the right to healthcare in a future all-Ireland Charter of Rights and a future United Irish Constitution, and seek in the meantime to amend the current 1937 Irish Constitution to include these rights.
• Enshrine the right to healthcare in legislation, and to make this a fully enforceable right in Irish Courts.
• Establish a Health Ombudsman to provide an administrative remedy short of the courts.
• Introduce equality-proofing and human rights-proofing to all health policy, law and practice, and introduce public health-proofing of other areas of law and policy.
• Build a new health system for Ireland that provides care free at the point of delivery for all on the basis of need alone and funded from general, fair and progressive taxation.
• Immediately establish a Health Funding Commission to report within on the projected costs of the transition to an all-Ireland system of universal provision, taking into account all spending on health services under the current systems, including state funding and private insurance, and make recommendations on how the state can best harness these resources in the interests of more equitable and efficient delivery.
26 Counties
Ó Caoláin was scathing of the 26-County Government's mismanagement of health.
He presented a number of policy proposals Sinn Féin intends to campaign on in the time ahead. These include:
• Ploughing all health funding into the public system and phasing out public subsidisation of the private system, including an end to tax breaks for private hospitals and the land gift scheme.
• Rollout of the promised Primary Care Centres throughout the state.
• A timetabled and fully resourced strategy to deliver the additional 3,000 hospital beds required
• Halting the over-centralisation of hospital facilities and reversing cutbacks in services at local hospitals.
• All new hospital consultant posts to be public-only.
However, he added: "These solutions are only transitional to remedy the immediate crisis in the two systems. What we really need is an end to the partitioned and two-tier systems and a fundamentally, structurally reformed all-Ireland healthcare system that guarantees universal access to everyone on the island on the basis of need alone."
Hospital care
Speaking on the issue of hospital care, Ó Caoláin said the key issue was accessibility. "We want to introduce a comprehensive hospital care system that is free at the point of use," he said. " We want to configure hospital services on an all-Ireland basis, institute a national plan for the provision and resourcing of hospital care, configure all hospitals to ensure that emergency services are available as locally as possible and transfer the management of hospital services to the Community Health Partnerships."
Much of the Sinn Féin document concentrates on the proven positives of primary care and demands investment in that sector. "We want to introduce comprehensive community-based primary health and social care services for all, free at the point of delivery, including General Practitioner and dental services and abolish all prescription charges," Ó Caoláin said.
The document also deals with the issue of mental health and drug and alcohol treatment.
"A landmark report by the Irish Section of Amnesty International described mental health as 'The Neglected Quarter' because one in four people will be affected by mental or neurological disorders at some point in their lives," Ó Caoláin concluded. "The first thing we have to do is raise awareness about mental illness and end the stigma that people with mental illness suffer."
• Six Counties
Caoimhghín Ó Caoláin described the problems currently facing the healthcare system in the Six Counties.
"It has been estimated that nearly 190,000 people — or about one person in nine — is now on a waiting list for care in the Six Counties," he said. "In addition, a lack of bed capacity increasingly means that patients in A&E are forced to wait on trolleys and chairs."
Four key problems
• Chronic underfunding and budget cuts by the British Government.
• Lack of democratic control over the health service as a consequence of Direct Rule, resulting in an inability to make the changes necessary to improve delivery in the healthcare service.
• Wasteful duplication and lack of co-operation and coordination with health services in the rest of Ireland that can have the effect of limiting access to services particularly in rural and border areas.
• Creeping privatisation of healthcare as a result of British policy that will steadily undermine existing equality of access in the system.
Sinn Féin interim policy proposals:
• Increased health funding from the British Government in fulfilment of their obligation to the people of Ireland in a period of conflict resolution and political transition.
• Restoration of local democratic accountability through the Assembly, including ministerial responsibility for health and social services.
• Investment in structural and management reorganisation and full implementation of the previously agreed health strategy Investing for Health.
• All-Ireland co-operation and progressive integration of health services, to maximise health resources on the island as a whole.
• Resistance to privatisation of healthcare.
Two-tier system — political double-think
Below are a number of contradictory quotes given by the Fianna Fáil/Progressive Democrat Government in relation to health. Caoimhghín Ó Caoláin cited these at the Health Conference last Saturday.
"A two-tier system...has been the position since the foundation of the State, and this system, with its integrated mix of public and private care, has served the nation well."— Rory O'Hanlon, Fianna Fáil Minister for Health 1987-'91.
"Equity will be central to developing policies (i) to reduce the difference in health status currently running across the social spectrum in Ireland and (ii) to ensure access to services based on need." - Fianna Fáil/Progressive Democrats' Government Health Strategy 2001.
[We are committed to] "the end of the two-tier health system." - Fianna Fáil General Election manifesto 2002.
"I believe in a minimalist role for the State in all our lives, including health care." — Tánaiste and Health Minister Mary Harney, December 2004.
"The fact that more and more people are getting private health care is a good thing. It's a sign of increasing disposable income." -- Harney, June 2005.
"The reality is that if you have private health insurance or can afford to pay, you have speedier access to our health system. And that's something I want to change." -- Harney, December 2005.
An unequal world
Brigid Quirke of the Public Health Alliance Ireland (PHAI) opened her presentation to Saturday's health conference with a quote from Martin Luther King; "Of all inequalities, health inequalities are the most inhumane."
Quirke highlighted the most upsetting problem in Ireland's two health systems, that of the less well off actually dying from lack of information on and access to care. Her startling statistics reflected an island divided between rich and poor and pointed out the dangers in the future if the British and Dublin Governments are allowed to continue with their flawed health plans and privatisation goals.
Quirke told us how 90% of healthcare could be provided at primary care level, ie by local doctors, clinics and small hospitals. Only 10% of sickness ever requires intervention in the form of specialist hospital care. Yet, both Governments refuse to fund care at this level.
"46% of the 26-County health budget is spent on general hospitals," she said. "Only 19% is allocated to community health services, and of that, 70% is spent on the Drugs Repayment and General Medical Card Scheme."
Quirke presented figures collected by the PHAI detailing the consequences of the 26-County Government's unequal spending. Among these were:
• The death rates for all cancers among the lowest occupational classes is twice as high as the higher occupational classes, three times higher for strokes, four times higher for lung cancer and six times higher for accidents.
• Unemployed women are twice as likely to give birth to underweight babies.
• Members of the Traveller community live between ten and 12 years less than average. Only 3% of Travellers are aged over 65 compared with 11% of the general population.
• The rate of sudden infant deaths among Travellers is 12 times higher than for the general position.
• Irish women have almost twice the rate of death from heart disease as the average European woman.
• The incidences of mortality for Irish women for cancers of the breast, colon, larynx and oesophagus are among the highest in the EU.
• At the age of 65, Irish men have the lowest life expectancy in the EU.
• A 1997 report found that 40% of hostel dwellers had a serious psychiatric illness, 42% had problems of alcohol dependency, and 18% had other physical problems.
• 39% of people surveyed in 2003 identified financial problems as the greatest factor in preventing them from improving their health.
Privatisation myths exposed
"No country in the world has set out to damage public hospitals in the way this one has."
These are the words of Marie O'Connor, health sociologist and writer, who spoke at the Hospital Care workshop last Saturday.
O'Connor is also the Secretary and PRO of the Health Services Action Group/National Birth Alliance, and her introduction to the workshop contained some startling facts on the 26-County Government's health plans and its privatisation goals.
At a time when the Government is attempting to downsize regional hospitals to create central 'super' hospitals, she pointed out how 17 unnecessary deaths had been logged in Monaghan General Hospital since vital services had been withdrawn there.
"This Government is on an accelerated drive towards centralisation, the Hanly Report is proof of this," O'Connor said. "Hanly claims small hospitals can't sustain themselves; what that means is that they can't sustain health specialisation, an area critical to furthering doctors' careers."
She told the group that the Government is planning to shut another 26 A&E units throughout the state after the Royal College of Surgeons (RCSI) withdrew its recognition of them for training purposes.
"The RCSI and Comhairle na nOspidéal wield massive power in this state," she said.
"They peddle the rhetoric that a large volume of patients are needed for safety in hospitals, that smaller hospitals can't provide a proper level of care -- this is simply untrue. And there is no lack of patients in smaller hospitals. Our statistics show that bed occupancy rates in these hospitals stand at between 88% and 133%."
O'Connor said Ireland has only nine acute hospitals per one million of the population and pointed to Belgium, which has three times as many.
"If Hanly was fully implemented, there would only be three," she said. "If we want to look at proper health reform, Hanly, and the professional medical bodies like Comhairle na nOspidéal, have to be eliminated. The professional medical bodies have left us with a system where consultant obstetricians, for example, earn upwards of €1.26 million a year and dictate their own terms."
O'Connor finished by attacking the falsehood that privatisation is good for the health system.
"We only have to look at Britain, where privatisation has left hospitals struggling to manage spiralling debts to banks and building contractors," she said.
"For profit medicine leaves doctors struggling with moral dilemmas. And what has to be realised is that, whereas enterprise in general is quite corruptive, medical enterprise is especially so. A case in point is a medical company in the US that was sued for fraud by Medicaid and the American Department of Justice for $2.1 billion. A subsidiary of that company has now set up the Beacon clinic in South Dublin. There's no accountability or monitoring there -- that's where this Government wants to take things."