2 February 2006 Edition
Fifth Column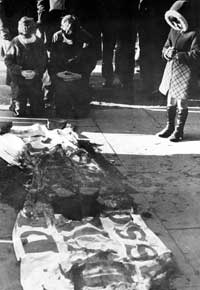 BBC's piece process
The BBC is always slapping itself on the back for its factual accuracy but it was "economical with the truth" in its Ceefax teletext news history item, On This Day, on Monday, the anniversary of the Bloody Sunday massacre. The BBC reported:
"1972: British troops open fire on a crowd of demonstrators in the Bogside district of Londonderry in the worst day of the current crisis so far."
No mention of 13 civil rights marchers shot dead, another dying later, and more than a dozen wounded, including boys.
The BBC motto is: "Nation Shall Speak Peace Unto Nation." Maybe it should be: "The BBC Shall Tell Just a Piece of the Information."
Banning orders
The following Dáil question was tabled by Fine Gael leader Enda Kenny last week when TDs eased themselves into work after their Christmas break.
"1136. To ask the Minister for Justice, Equality and Law Reform if the IRA still exists; and if he will make a statement on the matter."
To which the Witch-Finder General, Michael McDowell, replied:
"Pursuant to Section 18 of the Offences against the State Act 1939 and the Unlawful Organisation (Suppression) Order 1939, the Irish Republican Army (also the IRA and Oglaigh na hÉireann) remains an unlawful organisation which I am satisfied continues to exist and should continue to be proscribed."
If the Irish Government believes Defence Minister Willie O'Dea's claim that his model army is the one and only Óglaigh na Éireann, has McDowell has made O'Dea illegal?
Hard hats and brass necks
Willie and the Irish Army top brass, meanwhile, are busy kitting out their troops with new helmets from an Israeli company that supplies the Israeli Army.
The new lids will be delivered in 2007 in a joint operation by the Israeli Rabintex Industries Ltd and Daniel Technologies of Dublin worth €2.5 million to supply 12,000 ballistic helmets. But it's not the first time that Irish troops have worn Israeli-style gear.
In Lebanon, in the 1980s, Irish soldiers peace-keeping with the UN wore Israeli helmets when they were being shot at by right-wing militias... backed by the Israeli Army.
Talk about covering all the angles.
Pimp my web
The Liberal Democrat leadership contenders are up to their oxters in all sorts of scandals about rent boys and secret gay affairs.
So wannabe Lib-Dem leader Mark Oaten's website might have raised even more eyebrows when it flagged on its front page one of his press releases with the headline, "Prostitution strategy a missed opportunity."
Light punishment
Thames Valley Police have had a touch of the Ebeneezer Scrooges — they're threatening to slap an Anti-Social Behaviour Order on a man who covers his house in lights to raise money for a local children's charity.
Vic Moszcyznski's display raised £5,000 for Daisy's Dream, a local charity working with bereaved children. The constables, though, say that more than 40 crimes committed in the area where onlookers gathered to marvel at the festive fun were "directly linked" to the lights.
Maybe the police will also slap ASBOs on Harrod's, Oxford Street stores, banks, army officers, public schoolboys, and rich people because they all attract law-breakers too.
The third man
Spooky former Tory MP and spy writer Rupert Allason has just put another cash cow out in a new book (under his pen-name Nigel West), West's Historical Dictionary of British Intelligence, at a staggering £45 (€66) a copy.
In it, he claims that one in three IRA Volunteers was working for MI5 or the RUC.
If Rupie is right, it makes you wonder how the IRA ever managed to carry out any successful operations at all, never mind the bombing of the Tory conference in Brighton, the mortaring of the British War Cabinet in 10 Downing Street, the mortar attack on Heathrow airport and the Baltic Exchange and Canary Wharf bomb attacks in the heart of London, to name just a few.
Miner moles
The Sunday Times once wrote of Rupie: "'His information is often so precise that many people believe he is the unofficial historian of the secret services. His books are peppered with deliberate clues to potential front-page stories."
One of those stories was a claim by Rupie in the Sunday Express in May 2000 that a union chief during the British Miners' Strike in 15 years earlier was an MI5 agent.
"Spy expert predicts the revelations in former MI5 chief's memoirs," the Express glowed about Rupie's preview of the anticipated publication of former MI5 spy-mistress Dame Stella Rimington's autobiography.
Rupie alleged that National Union of Mineworkers' Chief Executive Roger Windsor had acted as an MI5 mole during the Miners' Strike, tipping off the government about strategic decisions taken by the NUM leadership. By doing this, the article alleged, Windsor had betrayed the miners and had ensured the collapse of the strike.
Windsor sued and, after 18 months, Rupie and the Sunday Express accepted that their allegations were wholly untrue.
And to rub salt into the spy 'expert's' wounds, his MI5 pin-up, Stella Rimington, also said Rupie's "precise" story was rubbish.
Have I got sues for you?
In 1998, Rupie sued BBC Worldwide and Hat Trick Productions for libel for producing a book, Have I Got 1997 For You, based on the satirical TV series Have I Got News For You, in which he was described as "a conniving little shit".
Alas, spooky Rupie lost the case which, as a subsequent episode of the programme pointed out, means that, unfortunately for him, he is now the only person in Britain who can be called "a conniving little shit" without being able to sue for libel.