19 January 2006 Edition
Intense opposition to Services Directive
BY CAOILFHIONN Ní DHONNABHÁIN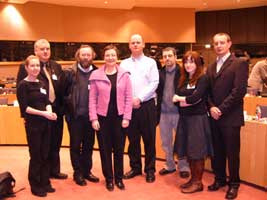 The European Union Directive on Services in the Internal Market is due to be voted on in the EU Parliament in early February and if passed will have a profound impact on workers' rights, pay and conditions across Ireland and the EU.
The Directive includes the "country of origin" principle which would allow companies established in one country to provide services in another, using the standards of the first country rather than those in which they operate. The effect will be a "race to the bottom" with companies shopping around for the lowest standards in terms of workers' rights and environmental protections.
Sinn Féin and GUE/NGL have opposed the Services Directive from the outset.
On 12 January a delegation of Sinn Féin activists and trade unionists travelled to Brussels to attend a conference entitled Social Justice for Europe -- No to the Services Directive organised by the GUE/NGL Group. The conference was attended by delegates from across Europe.
The delegation included Gerry McCormack of SIPTU, Noel Murphy of the Independent Workers' Union (IWU), Dessie Donnelly of UNISON, Councillors Daithí Doolan and John Dwyer and Caoilfhionn Ní Dhonnabháin and Miriam Murphy.
Delegates were given a critical overview of the Report of the Committee on Internal Market and Consumer Protection on the Services Directive. This was followed by a two-part discussion. The morning discussion involved national, regional and local elected representatives while the afternoon featured a discussion with representatives of trade unions, social movements and civil society NGO's
Contributions were characterised by an intense opposition to the Directive, suggesting that this week's rioting by European dock workers in Strasbourg in opposition to the EU Ports Directive is almost certain to be repeated when the Services Directive is voted on in February. Daithí Doolan spoke from the floor to reiterate Sinn Féin's opposition to the Directive.
The level of awareness among delegates regarding the implications of the directive was in stark contrast to the level of coverage it has received in the Irish media and awareness amongst the Irish public.
The Directive cannot be defeated until public awareness is increased and the public is mobilised against it The Irish Trade Union Movement must do a lot more to raise awareness and mobilise both their own members and the general public against the Directive. Though SIPTU's Gerry McCormack spoke against the Directive at the Conference and gave delegates a flavour of the downward spiral of worker exploitation experienced here, SIPTU, as the biggest union in the 26 Counties, must translate this opposition into action and use its strength to make it impossible for the Dublin Government to ratify the directive.
There was a clear sense at the conference that in order to defeat the Directive it would be necessary to transfer the opposition voiced at conference into protests and campaigning action across Europe. Large-scale public opposition to the Directive can achieve results and could force state governments to vote against the Directive.