19 January 2006 Edition
Finucanes meet party leaders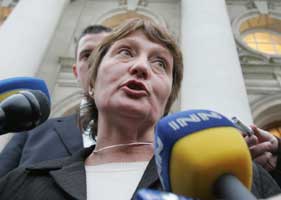 The family of assassinated Belfast human rights solicitor Pat Finucane have described a series of meetings with political party leaders in Dublin on Wednesday 11 January as "very positive".
Finucane's widow Geraldine and other family members met with the political parties as part of their long running campaign to force the British Government hold a proper inquiry into the 1989 killing.
Members of the family met with Fine Gael leader Enda Kenny, Progressive Democrats' leader Mary Harney and Green Party leader Trevor Sargent.
Describing the meetings as very positive Finucane said she hoped the party leaders would lobby Taoiseach Bertie Ahern to put pressure on the British Government to reveal the full details of her husband's killing.
"The parties believe we have every right to seek the truth and to have an inquiry that is independent and meaningful and are prepared to come together and give us cross party support."
Fine Gael leader Enda Kenny said it was fundamental that the facts and circumstances surrounding the case were put before the public.
"That is why I am calling for a full public inquiry in line with the recommendations made by Canadian Judge Peter Corry supporting the campaign by the family on the murder of Pat Finucane."
Mary Harney said it was one of the rare occasions when the Dáil is united on an issue while the Green Party leader said he would be writing directly to British Prime Minister Tony Blair on the matter and will also be raising it in the Dáil.