19 January 2006 Edition
McDowell detains asylum seeker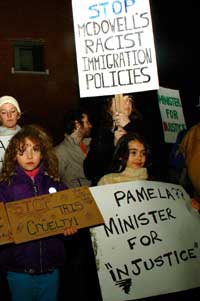 Deportation - Sligo people join Dublin protest
Two hundred people from Dublin and Sligo protested outside Mountjoy Jail last Tuesday 17 January at the treatment of Nigerian woman Pamela Izbekhai, who has been imprisoned while awaiting a deportation decision.
Anger is mounting at Justice Minister Michael McDowell's treatment of Izbekhai, who is seeking asylum on grounds of fear of bodily mutilation if she and her two daughters are sent home.
The Nigerian woman's two children, aged three and five, have been taken into care while their mother awaits their fate.
Pamela was arrested on Thursday 12 January in Sligo. She was en route to see her two children, whom she had not seen since 8 December when fear of deportation had forced her into hiding.
Tanaiste Mary Harney's Department of Health claims to know nothing about the subsequent arrest.
That evening local Sligo people came to a silent vigil outside Sligo Garda Barracks in protest at her detention.
On Friday, Pamela was successful in securing an interim injunction in the High Court, restraining the Justice Minister from deporting her before her case receives a judicial review. The case is now set for 10am Monday 23 January, in the High Court.
Tragically Pamela's first daughter died at the age of 19 months, while undergoing the procedure of Female Genital Mutilation (FGM). The procedure is commonly practiced in Nigeria and in some communities is forcibly imposed on girls. She has stated that her two daughters will be forced to undergo the rite if they return to the country.
Although the UNHCR recognises fear of FGM as a legitimate ground for asylum, in Ireland it is treated as a discretionary matter, to be determined by the Appeals Tribunal.
Speaking on Tuesday in the Irish Times, McDowell claimed that "hundreds, if not approaching thousands" of applications had been made on this basis. He went on to say: "We make, I am quite satisfied, very reasonable decisions on the same basis."
Rosanna Flynn of Residents Against Racism, points out: "One of these so-called reasonable decisions, only a few months ago, included the deportation of Abelarde, who was deported despite her fears of enforced FGM."
Speaking at the meeting outside the jail on Tuesday, Rosanna said: "I find it inconceivable, in this day and age, when Ireland is crying out for recruits from abroad to our labour force to fund pensions for our current and ageing workforce, that Pamela, despite her most obviously well-grounded fears, has not been given asylum here in Ireland.
"Why is Pamela still in jail, separated from her children, who continue to be in care? Is this a proper way for the Minister to treat those who seek sanctuary here? Seeking Asylum is a perfectly legitimate pursuit — so why are asylum seekers jailed, their children taken off them and put into care?"